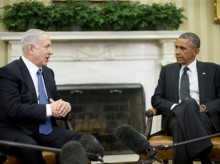 President Barack Obama meets with Israeli Prime Minister Benjamin Netanyahu in the Oval Office in 2014 (AP Photo/Pablo Martinez Monsivais)
JERUSALEM (AP) — Israeli Prime Minister Benjamin Netanyahu heads to Washington next week on a last-gasp effort to seal what he hopes will become his signature achievement: preventing Iran from attaining a nuclear weapon. But the centerpiece of the visit, a much-hyped speech to Congress arguing against the international community's emerging nuclear deal with the Islamic Republic, has been overshadowed by a damaging battle with the White House and electoral intrigue back home.
By accepting a back-door invitation from House Speaker John Boehner that bypassed the White House, Netanyahu has inserted himself into the heart of the bitter U.S. partisan divide and seen his already troubled relations with President Barack Obama's administration reach a new low. In exceptionally harsh language, the U.S. national security adviser, Susan Rice, has called the speech "destructive."
At home, Netanyahu is being accused of cynically turning the speech into a campaign stop ahead of March 17 elections, insisting on confronting Obama to distract from scandals and domestic issues dogging his re-election bid. The uproar has even pushed aside debate over his key argument that Iran's nuclear weapons-making capabilities will be left largely intact.
The Israeli media and political opponents have lambasted the decision to flout the White House, and even some allies who support Netanyahu's message have criticized the approach.
The U.S. administration is refusing to meet with him and appears to be considering ways of undercutting him. The White House has already said it is scaling back on the intelligence it typically shares with Israel, some pro-Israel Democrats are skipping his speech and Jewish American groups have spoken out against the visit.
Undeterred, Netanyahu plans to proceed with his speech to Congress Tuesday, and this week he accused the U.S. and other global powers of "giving up" on their commitment to prevent Iran from developing nuclear weapons.
"I respect the president of the United States, but in such a fateful matter that can determine if we exist or not, it is my duty to do everything to prevent this great danger to the state of Israel," he said.
Yuval Steinitz, Israel's minister for intelligence affairs and a close confidant of Netanyahu's, said the prime minister considers stopping Iran a "historic mission."
"He really believes that this is his No. 1 mission, his No. 1 obligation and priority," he told The Associated Press. "For Netanyahu it is in his bones."
Netanyahu has been warning the world for more than a decade about dangers of a nuclear-armed Iran, citing the Islamic Republic's support for some of the most dangerous militant groups and regimes across the region, its development of long-range missiles and its development of a nuclear infrastructure that includes thousands of centrifuges capable of enriching uranium to weapons-grade levels. With Iranian leaders frequently calling for the destruction of Israel, Netanyahu considers a nuclear-armed Iran a threat to his country's very existence.
Iran has argued that its nuclear program is for civilian purposes only. That argument has not convinced many governments. But Netanyahu's campaign to get the world not to compromise at all seems like a tough sell at such a late stage after years of talks.
While the U.S. and Iran are negotiating over how many thousands of centrifuges Iran will be allowed to keep, Israel says it should not be granted a single one, claiming they are not needed if the program really is for peaceful purposes. Enriched uranium has both civilian and military uses.
Steinitz said Iran has shown little flexibility in the negotiations, and rejected the international approach of "containing" Iran by easing sanctions in return for good behavior. Instead, he said Iran's military capabilities needed to be neutralized, meaning no uranium enrichment.
Israel is not alone. Egypt, Saudi Arabia and other Arab nations are also wary of a deal that could set off a Middle East arms race. With Iran's influence already spread across Syria, Lebanon, Iraq, Afghanistan and Yemen, a favorable deal could bolster its already considerable ambitions across the region.
But given Israel's unique concerns, Netanyahu has led the charge, and he sees Congress as perhaps his last chance to block a deal.
Netanyahu's political opponents share his concerns, but accuse him of hurting his case by clashing with Obama. Many claim he uses the Iran issue to obscure issues from the election agenda where he is more vulnerable, such as Israel's economic inequalities, sky-high housing costs and scandals regarding his homes' inflated expenses.
The March 3 speech comes just two weeks before Israelis vote and less than a month before the deadline for a framework agreement with Iran.
David Horovitz, the founding editor of the moderate Times of Israel website, recently summed up the Israeli mood with an essay titled "divided over that speech, not over a lousy deal with Iran."
Netanyahu and Obama, who both took office in early 2009, have suffered from poor chemistry from the beginning and had a series of run-ins over Iran, Israeli-Palestinian peace efforts and Israeli settlement construction.
The latest spat, however, appears to have sunk U.S.-Israeli ties to their lowest point since Secretary of State James Baker famously told Israel in 1990, "When you are serious about peace, call us." Netanyahu has tried to brush off the latest tensions as a disagreement between friends.
U.S. Secretary of State John Kerry told a congressional hearing this week that Netanyahu "may have a judgment that just may not be correct here," while National Security Adviser Susan Rice said the Israeli leader had injected partisanship into a relationship that should be above politics.
"It's destructive to the fabric of the relationship," Rice said.
Dov Weisglass, a top aide to former Prime Minister Ariel Sharon, warned that Israel may find the U.S. no longer assisting next time it found itself in conflict with hostile world organizations.
With Netanyahu's position so well known, it remains unclear what exactly he hopes to gain from another speech. He gave a similar and well-received address to Congress in 2011.
Dore Gold, a top Netanyahu adviser, said that even if the prime minister can't change Obama's mind, it was the prime minister's duty to "clarify to the widest possible audience what the danger is." He said the disagreements were part of a healthy global public discourse over a critical issue.
"The U.S. is committed to preventing Iran from acquiring nuclear weapons and therefore the debate is about how best to prevent that from happening," he said. "(We) think the discourse has been created and we're hopeful it will lead to a new understanding of how to halt Iran."