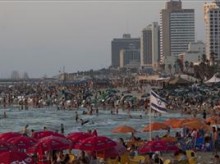 People enjoying the Mediterranean Sea in Tel Aviv. (AP Photo)
JERUSALEM _ It's priming for a risky showdown with Iran over its suspected nuclear program, concerned about neighboring Syria's bloody civil war spilling across the border and dealing with terrorists attempting to infiltrate from Egypt's lawless Sinai Peninsula.
But that doesn't seem to be deterring hundreds of thousands of tourists from flocking to Israel each month. Despite the region's turmoil, Israel is enjoying an unexpected tourism boom, and 2012 is shaping up to be a record year.
Nearly 300,000 tourists arrived in July, a record for the month and an 8 percent increase over the previous July, according to the Tourism Ministry. The trend is nothing new: The ministry says each month of 2012 so far has set an all-time record for that month.
"It's a period where, on the face of it, we should be struggling with an economic downturn and the Arab Spring around us," said Uri Steinberg, head of the America department at the Tourism Ministry, "but it hasn't worked out that way."
He said Israel initially hoped that tourists fearful of traveling to Egypt would choose Israel instead. But more often than not, he said, tourists planned Israel-Egypt combo tours and then put off the whole trip because of the unrest in Egypt.
Israel has more than made up the difference with American and eastern European travelers, who are arriving to the Holy Land in record numbers.
Just a decade ago, Israel was overwhelmed with suicide bombings and shooting attacks on buses and restaurants that killed more than 1,000 Israelis and devastated incoming tourism. With the recent years of calm, a post-9/11 sense that Israel is no longer disproportionately dangerous and an aggressive worldwide campaign to promote Israeli tourism, the tables have turned.
Steinberg said Israel has also become a destination for specialized tourism. These include Jewish and Christian faith-based travelers to the Holy Land, bird watchers, opera fans and marathon buffs.
Gay travel has also provided a boost. Tel Aviv was recently crowned by readers of the travel website GayCities and American Airlines customers as "Best Gay City of 2011," ahead of New York, Toronto and London.
Young American Jews taking part in organized trips, such as Birthright Israel, are increasingly spreading the word back home to older, wealthier relatives.
"Faith-based travel, though, is our bread and butter," said Steinberg. "There are 85 million Americans who identify as Evangelical, and they all want to visit."
The numbers point to an economic rebound in the United States, he said.
Nearly 70,000 July tourists were from the United States, a nine percent increase over the previous July.
The second largest source, with just under 30,000, was Russia. In the past two years, Israel dropped its visa requirements for tourists from Russia and Ukraine. In the Ukrainian capital of Kiev, dozens of large billboards promoting Israel as a tourist destination can be seen flanking downtown streets.
Naturally, the holy city of Jerusalem is a top draw, attracting 80 percent of all those who visit Israel, according to the Tourism Ministry.
Not everything is rosy, though. Tourism operators complain of a severe shortage of hotel rooms and affordable accommodations. In Jerusalem, for instance, rates in upscale hotels start at $450 a night, and quality budget rooming options are limited.
Mark Feldman, CEO of ZionTours, the largest American-owned travel agency in Israel, said Israel caters to high-end visitors and modest pilgrims but offers little in between.
"Tourists are being overcharged for hotel accommodation," he said. "I'd say Israel is a happening place to get away to. I wouldn't market it as good value for your money, though."
The fear of violence is never too far away either.
"The biggest concern here is whether Israel is going to go to war with Iran, but that is the only concern by and large," Feldman said.
The Tourism Ministry says it has no control over that. But in a partial attempt to rectify the price of travel, on Thursday it announced a $20 million investment to renovate and expand six hotels across the country. The initiative will add 146 hotel rooms.
The ministry said projects approved in 2012 are expected to add 1,123 hotel rooms overall, with $190 million in investments.
"Increasing the number of hotels promotes competition and reduces the cost of vacation packages for many Israelis and foreign tourists whose numbers are increasing and therefore we need to make the necessary preparations in order to accommodate them," Tourism Minister Stas Misezhnikov said in a statement.