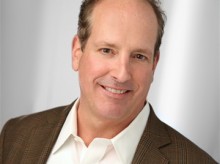 Karl Bream, Head of Product and Business Strategy, Cloud and Network Services
Throughout his extensive networking career, Karl Bream has frequently alternated between the carrier and enterprise worlds. Starting at AT&T and in later roles at Alcatel-Lucent and, following the 2016 merger, at Nokia as well, Bream has found himself moving back and forth between various roles in the two domains.
So, when Cloud and Network Services was established this year, essentially merging them together, Bream seemed like the natural candidate to lead the new business group's product and business strategy team.
"The ability to leverage the disruptions and strengths of both markets is really an opportunity," he said. "The agility of the enterprise market with the reliability of the carrier market – that's a beautiful intersection and 5G is the key."
Bream said it was that fusion that made him confident CNS would extend its leadership and grow faster than the market.
He said that was essentially his job – to anticipate changes in the market and position Nokia as a leader in providing business outcomes for service providers and enterprise customers.
To do that he prioritizes investment toward the most promising areas for growth, such as 5G core, private wireless and security. He said consumption and delivery was also important, and he predicted that Software-as-a-Service would soon begin disrupting the networking industry.
"Strategy is like a journey. First you have to decide where you are going and then you have to decide what path you are going to take to get to that destination and what mode of transportation you will use to get to the destination," he said. "Like (hockey legend) Wayne Gretzky said: 'You have to skate to where the puck will be.' In the future our customers and our industry will be in a much different place and we will lead the journey with new technology and commercial delivery innovation."
Bream said it will take some time for the vision to come to fruition and will require agile execution along the way.
"No strategy survives first contact, meaning your approach will change over time in anticipation of the next change in the market landscape," he said. "It is an ongoing proposition, but my success is really judged on whether we achieve our goals 2-4 years from now and did I prepare the organization correctly today."
While his professional life involves a lot of long-term planning, Bream says he approaches his private life far less strategically.
The father of three has spent much of his free time in recent pre-pandemic years on charity work and adventure travel that derived from a curiosity about what New Year's resolution he could make that would be the most impactful and achievable.
His answer, some 15 years ago, was simply to "say yes more often."
It started with joining a church initiative to help build homes and schools in poverty-stricken rural areas of Ecuador, and expanded to volunteering with various education, social and health care non-profit organizations in the New York area.
"I'd love to say I have a master plan like Bill Gates when it comes to making the world a better place but it's really whatever moves me at the time. I listen and it hits me: 'that's something I can really help with and get involved in and I just do,'" he said. "When you say yes more often you become very open to new experiences."
The D.C.-native at one point spent a few years working in Paris, but he is always on the move. He said he enjoys experiencing the wide world in solo adventures, whether it is heading to Everest base camp, spending time in Tibet or going on a shark diving excursion in South Africa.
He's also gotten his family in on the act with trips to see the midnight sun in Iceland, touring the Galapagos Islands with his daughter and fishing with his son for "river monsters" like piranha (not bream) in the Amazon.
He said he always smiles when he sees the Nokia brand in his various travels around the world and he took special pride in helping a small village near Guayaquil, Ecuador improve its living conditions and perhaps someday transition into a digital community. But more than anything he said his volunteer work was a way of giving something back and providing his kids a chance to experience the world as well.
"It's amazing seeing the people of the world," he said. "You go down there thinking you are going to find people in despair, but you find hope. You expect poverty, but you find richness of spirit. You expect to be tired after building homes, but you come home energized. There really isn't anything like it."