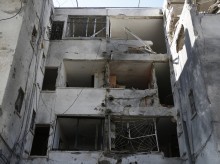 The apartment building in Ashkelon hit by a rocket from Gaza (AP Photo/Ariel Schalit)
ASHKELON, Israel (AP) — Loren Amar was watching TV with her father around midnight when an air-raid siren warning of incoming rocket fire blared through their working-class neighborhood in southern Israel.
Their old apartment had no in-house shelter, so they huddled in the stairway just before a rocket from Gaza slammed into the building next-door, sending shrapnel and debris flying into their bedrooms — and the 29-year-old Amar to the hospital with shock symptoms.
"The walls shook and the hallway filled with white smoke. It felt like an earthquake," she recalled Tuesday, a hospital identity tag still wrapped around her wrist. "The electricity went out and we didn't know whether to go up or down. I was hysterical."
It was the first lethal rocket attack from Gaza in years, and yet the only fatality was a Palestinian laborer from the West Bank. Two Israeli women were critically wounded.
In just 24 hours, Gaza militants fired more than 450 rockets and mortar shells into southern Israel, the most serious escalation since a 50-day war between Israel and Hamas in 2014. Israel responded with a wave of airstrikes it said targeted militants.
Residents angrily demanded the government restore calm for good, even if that means another war. Yet many people wearily expressed a sense of helplessness, as successive governments fail to come up with an effective policy to bring quiet to the Israel-Gaza frontier.
Hamas militants seized Gaza in 2007, triggering an Israeli-Egyptian border blockade that has choked the territory of 2 million people. Israel refuses to lift the blockade unless Hamas disarms, a demand the militants refuse. The volatile standoff has produced repeated rounds of violence, including indiscriminate Gaza rocket fire at Israeli border towns.
Word late Tuesday that Gaza militants agreed to a cease-fire was unlikely to sway people's minds that there is no long-term solution to the Gaza conundrum.
"I don't know how you stop this thing. Nothing helps. Whatever you do it always comes back," said Shlomit Hayat, 38.
She noted that the deadly violence came just days after Israel allowed Qatar to deliver $15 million in cash to Gaza to alleviate its economic hardship and after Israeli Prime Minister Benjamin Netanyahu said he'd do everything he can to prevent an "unnecessary" war.
The latest fighting was triggered by a botched Israeli raid into Gaza on Sunday that set off clashes resulting in the deaths of seven Palestinian militants, including a local Hamas commander, and a senior Israeli military officer. Palestinian militant groups said the rocket barrage was a message to Israel that such incursions have a cost.
Gazans have similar fears when fighting breaks out. While Israel says it has confined its airstrikes to military targets, hundreds of Palestinian civilians have been killed in the three previous wars. For many in Gaza, the latest outbreak of fighting brought back fears that no place is truly safe in the densely populated territory.
On Tuesday, an Israeli airstrike destroyed a six-story residential building in the Rimal neighborhood of Gaza City that housed a kindergarten on its ground floor. Israel said the building was used by Hamas for military purposes — a charge denied by residents.
"All the people here are civilians, children and families," said Mamdouh al-Shurafa, a building resident. "When we are bombed in the middle of the city, where can we go?"
Israel and Hamas have fought three wars since the group seized Gaza from the internationally-backed Palestinian Authority in 2007. In the most recent war, over 2,200 Palestinians were killed, more than half of them civilians, and tens of thousands were left homeless. Seventy-three people, most of them soldiers, were killed on the Israeli side.
Israel's Iron Dome rocket-defense system and advanced warning networks have provided a large degree of protection from the rockets, which killed some 30 civilians in the decade prior to the 2014 war. Casualties have dropped considerably since then and a proliferation of rocket-proof safe rooms in newer buildings has allowed many Israelis to feel much safer in their own homes.
But this week's onslaught showed the system is not foolproof. The overnight rocket that slipped through penetrated the roof of a four-story apartment building, leaving the entire structure pockmarked, its windows blown out and the balcony shutters hanging limply.
Emergency forces evacuated a critically wounded woman to hospital. Only an hour later, a neighbor sifting through the rubble discovered the other wounded woman and the dead man. "I heard a murmur and then I saw a hand reach out," said Shlomi Lankry.
Relatives in the West Bank town of Halhoul identified the dead man as 48-year-old Mahmoud Abu Asbeh. A married father of six, he would typically sleep in Ashkelon during the week and return home for weekends.
"The rockets don't have eyes to see, they hit randomly, and this happened randomly, it was unintentional," said his father, Abdel Hamid Abu Asbeh. "Last night he told me the rockets are falling like rain. He said: 'May God protect us,' as if he expected something."
Those around the building were at a loss to describe the shock of a rocket landing in the heart of their neighborhood.
"It's like Russian Roulette," said Elie Mozes, 57. "It just comes out of nowhere."
Back at home after her stint in the hospital, Amar said she was at a loss to prescribe a solution. With glass strewn across her bed and holes blown through her hanging laundry, she said all she knew was that something had to be done.
"If anyone still lives in a fairy tale that there will be peace here they need to snap out of it," she said.