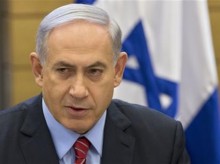 -Prime Minister Benjamin Netanyahu (AP Photo/Sebastian Scheiner)
JERUSALEM (AP) — With elections on the horizon, the greatest obstacle standing between Prime Minister Benjamin Netanyahu and a return to high office could be Netanyahu himself.
A slew of challengers, including some of his traditional supporters, are taking aim at the longtime Israeli leader, saying that after nearly nine years in office, it is time for a new face at the top. Although opinion polls still make Netanyahu the frontrunner, "Bibi fatigue" is shaping up to be a key issue during the upcoming three-month campaign.
His approval numbers are dropping fast and, for the first time, a newly formed opposition alliance is inching past his Likud party in the polls as the largest parliamentary faction. While that does not guarantee an opposition victory, it is cause for concern for the longtime Israeli leader.
"There is definitely a sense that people want to see a change," Danny Danon, a Likud lawmaker who is running against Netanyahu internally, told The Associated Press. "I hear these voices and I am troubled by the next elections and the coalition that could follow."
When Netanyahu dissolved his unwieldy coalition and called new elections last week, he appeared to be a lock for re-election, thanks to his unrivaled experience and a dearth of challengers. He seemed such a sure bet that his move was seen as a tactical decision to guarantee himself a fourth term.
But in just a few days, the "anyone but Bibi" campaign — referring to his popular nickname — has gained traction and his maneuver is looking increasingly risky. The election is set for March 17.
There are many reasons for the sentiment. On Israel's dovish left, Netanyahu is seen as a hardline ideologue who has aligned himself with allies who oppose peace with the Palestinians and favor a greater role for religion in daily life. They also lament the deterioration in relations with the U.S., Israel's closest and most important ally.
Even among more conservative voters, many fear that Netanyahu has veered too far to the religious-nationalist right, while hardliners ironically think Netanyahu is too soft on security issues and are turning to other parties. Meanwhile, an economy that is increasingly divided between haves and have-nots has alienated many Israelis. Across the board, many just feel it's time for some fresh blood.
"Read my lips: Prime Benjamin Netanyahu will lose the election," columnist Uri Misgav wrote Tuesday in the liberal Haaretz daily. "Netanyahu's stock is at an all-time low, and he has nothing left to sell … Netanyahu will lose because the rising revulsion for him crosses party lines and overflows its banks."
In a boost for the anti-Netanyahu camp, the center-left Labor Party this week joined forces with the recently fired justice minister, Tzipi Livni, and her Hatnuah party, which focuses on pursuing peace with the Palestinians.
Opinion polls give the joint list about 24 seats in the 120-seat Knesset, which would make it the largest single faction in parliament, with two or three seats more than Netanyahu's Likud Party. Polls still give Netanyahu the best chance of forming a majority coalition because of the expected strength of other religious or nationalist parties. But a single defection from this bloc could swing the election against Netanyahu.
Avigdor Lieberman, the enigmatic foreign minister and head of the Yisrael Beitenu faction, has a love-hate relationship with Netanyahu, his former mentor. He recently rebuffed Netanyahu's backdoor attempt to form an alternative coalition and has signaled a move to the center ahead of elections.
And Moshe Kahlon, a popular former Netanyahu ally who quit politics last year following a spat with the prime minister, has returned with a new party of his own that looks set to eat support away from Netanyahu.
Yesh Atid's Yair Lapid, the recently fired finance minister whose falling out with Netanyahu led to the coalition's implosion, has been lambasting the premier, calling him a coward who is out of touch with average Israelis.
Even the ultra-Orthodox Jewish parties, traditionally among Netanyahu's most loyal partners, have said they would consider joining a government headed by Labor chief Isaac Herzog.
Inside Netanyahu's own Likud party, several key allies have abandoned him. The most notable is Gideon Saar, a popular interior minister who is considering a bid to unseat Netanyahu in internal elections for party chairman. Anti-Netanyahu jeers were heard at a party convention Tuesday night.
The discontent is seeping into the public as well. Opinion polls show a shrinking gap between Netanyahu and Labor leader Herzog when asked who is most suitable to be prime minister. Other polls show a large majority of Israelis saying they don't want Netanyahu back as prime minister, even if they didn't have a better candidate in mind.
Nahum Barnea, a leading columnist for Yediot Ahronot, said it was time to move on for Netanyahu, who has served as prime minister longer than anyone since the country's first premier — Israel's founding father David Ben-Gurion.
"We've had enough, and you, the prime minister, have had enough. What you haven't done in three terms, you will not do in the fourth," he wrote. "You have had better years and worse years. We want so badly to miss you, to wax nostalgic for your positive qualities, to celebrate them. Give us a chance."