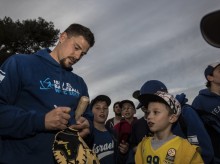 Ryan Lavarnway signs autographs at the Baptist Village sport complex near Petah Tikva, Israel. (AP Photo/Tsafrir Abayov)
PETAH TIKVA, Israel (AP) — Israel has just one baseball-specific field, and most Israelis know little about the game. Yet the country has emerged as a potential spoiler in the upcoming World Baseball Classic thanks to quirky regulations that allow it to pack its squad with American pro players of Jewish descent.
Major leaguers Ike Davis, Sam Fuld and Ryan Lavarnway were among 10 team members who visited Israel for the first time this month to get a glimpse of the country and people they will represent — and to boost a sport that remains on the fringes of the local athletic scene.
It's a match that benefits both sides. For Israel, the option of tapping into a deep pool of Jewish big leaguers offers a rare opportunity to compete internationally against powerhouses like the U.S., Japan and the Dominican Republic and lift baseball out of its longtime obscurity in the Holy Land. For the players, it's a chance to play in the high-profile tournament and connect with roots many didn't even realize they had.
"It was just really weird because it's not something that I really ever associated much with," said New York Mets infielder Ty Kelly, whose mother is Jewish. "I hope that I am not taking it too lightly. It's definitely an honor, and I definitely appreciate the fact that it is a possibility."
Tournament rules allow countries to field players who are eligible for citizenship — even if they are not actual citizens. Israel grants automatic citizenship to anyone with at least one Jewish grandparent.
It's hardly the only country to tap into foreign talent under the so-called heritage clause. Italy, South Africa and the Netherlands all managed to field U.S. major leaguers in the 2006, 2009 and 2013 tournaments through similar citizenship rules. Italy's roster, for example, has previously included Hall of Famer Mike Piazza and Chicago Cubs All-Star Anthony Rizzo. The Boston Red Sox's All-Star shortstop Xander Bogaerts, born in the Dutch Caribbean island of Aruba, is planning to play for the Netherlands in this year's tournament.
The Israeli team has relied almost exclusively on players with the loosest of links to their supposed homeland to advance to the showcase tournament, where they are the lowest ranked team (#41 in the world) and the last of the 16 to qualify.
Peter Kurz, president of the Israel Association of Baseball, said the weeklong visit was aimed at creating a closer bond.
"It's true. Many of them didn't have bar mitzvahs," he said. "But they are getting much more in contact with their heritage playing for Israel and being here."
During their brief stay, the players got a crash course on Israel, visiting holy sites in Jerusalem, trendy Tel Aviv and an Israeli Air Force base — where some got to sit in the cockpit of a fighter jet. They climbed Masada, dipped in the Dead Sea and put on a brief clinic for local kids, wowing the crowd with moonshot homers.
Baseball has historically been one of the most popular sports among American Jews, and there has consistently been a Jewish presence in the major leagues, from Hall of Famers Hank Greenberg and Sandy Koufax to modern day All-Stars like Ryan Braun, Ian Kinsler and Joc Pederson. But in sports-mad Israel, soccer and basketball reign supreme while baseball is still mostly a curiosity.
For decades, it was the domain of a small but loyal group of American immigrants and failed to catch on with the rough-and-tumble native-born Israelis who, when it came to imported American sports, took more of a liking to the hard-hitting nature of football. In 2007, a group of American supporters launched the Israel Baseball League, a professional league comprised almost entirely of foreign players that folded after just one season.
Davis, a former New York Mets first baseman, said he hoped the exposure that comes with playing against the world's best will finally elevate baseball in Israel. Davis, whose mother is Jewish and lost much of her family in the Holocaust, said the experience has made him feel closer to Israel and want to connect deeper to his roots.
"I feel like that's what basically Israel was born on," he said. "Jewish people have a home here no matter where they live."
As for wearing Israel across his chest?
"It's representing your past, your heritage, your history. What's in your blood," said Davis, 29.
Members of the team that won the qualifying round in September agreed to wear a Jewish skullcap for the national anthem during the first game of the tournament. But then — superstitious ballplayers that they are — they continued the ritual as they rode a winning streak until beating Great Britain to advance to the tournament.
It is not yet clear whether the team will continue the practice when they head to Seoul in March to play host South Korea, Chinese Taipei and The Netherlands in Pool B.
Kurz said there are about 1,000 active players in Israel, and prize money from the WBC should help finance two additional regulation fields being built. In the meantime, he is continuing his sleuthing efforts to identify potential Jewish ballplayers who can help the cause and verify their heritage. In one case, to prove one player's eligibility, he said he had to track down a picture of the gravesite of a grandparent to show there was a Jewish Star of David on the headstone.
"They are all legitimate players who have Jewish blood and Jewish heritage," he said.
For Kelly, the thrill of suiting up for Israel was comparable to fulfilling his lifelong dream when he was called up to the big leagues last year after eight seasons in the minors. He said an emotional Friday night visit to Jerusalem's Western Wall where worshippers were dancing and praying had the kind of energy and atmosphere that Americans can only see at sporting events.
"I feel like I should do more. I feel like I need to study as much as I can and stay connected as much as possible," said Kelly, 28. "I want to have as much depth in this as possible and not just something where I go play baseball for a tournament and it means nothing else."