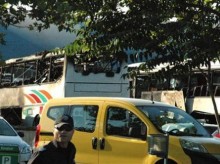 A Bulgarian policeman is seen in front of destroyed buses at Burgas Airport. (AP Photo/ Bulphoto Agency)
SOFIA, Bulgaria (AP) — Israel vowed Wednesday to strike back at Iran, blaming the Islamic Republic for a brazen daylight bombing that targeted a bus full of Israeli tourists in Bulgaria and killed at least seven people.
President Barack Obama termed it a "barbaric terrorist attack." The U.S. leader called Israeli Prime Minister Benjamin Netanyahu to express his sorrow over the attack and pledged assistance to bring the perpetrators to justice, according to statements from the two leaders' offices.
The bombing in a quiet Black Sea resort town was the latest in a series of attacks attributed to Iran that have targeted Israelis and Jews overseas and threatened to escalate a shadow war between the two arch-enemies. Iran has denied involvement in the past but did not comment on Wednesday's bombing.
The violence also came against the broader backdrop of the international standoff with Iran over its nuclear program. Israel, accusing Iran of developing nuclear weapons, has repeatedly hinted it is prepared to strike Iranian nuclear targets if Tehran does not curb its suspect program.
The blast gutted the bus at the airport in the Black Sea city of Burgas, some 400 kilometers (250 miles) east of the capital, Sofia. The Israelis had just landed at the beginning of their vacation.
Black smoke billowed into the sky from the stricken bus after the bomb exploded. Young Israelis said they were just boarding when the explosion ripped through the white vehicle in the airport parking lot. Israeli Foreign Minister Avigdor Lieberman said at least seven people were killed.
"We were at the entrance of the bus and in a few seconds we heard a huge boom," said Gal Malka, an Israeli teenager who was slightly wounded in the blast.
The resort town has become a popular travel destination in recent years for Israelis, particularly for recent high school graduates before they are drafted for mandatory military service.
No group immediately claimed responsibility for the attack, which wounded 30 others. But suspicion immediately fell upon Iran and its Lebanese proxy, the Hezbollah guerrilla group.
The attack came exactly 18 years after the bombing of a Jewish community center in Argentina that killed 85 people. An Argentine investigation concluded Iran was behind that attack. In addition, Israel has accused Iran of being behind a string of attacks in Europe, Asia and Africa in recent months.
"All signs point to Iran," Netanyahu said after Wednesday's explosion. "Just in the past few months, we have seen attempts by Iran to harm Israelis in Thailand, India, Georgia, Kenya, Cyprus and more. This is an Iranian terror attack that is spreading across the world. Israel will react forcefully to Iran's terror."
The Israeli leader gave no evidence to back his charges.
In the past, Iran has accused Israel of being behind a series of covert attacks on Iranian nuclear targets, ranging from the assassinations of Iranian nuclear scientists to mysterious computer viruses that have damaged Iranian centrifuges.
Israel has never admitted to involvement, but it and others have accused Iran of reprisal missions, including a February bombing in New Delhi that wounded an Israeli diplomat's wife and the discovery of a cache of explosives in Bangkok that Thai officials claim was linked to a plot to target Israeli diplomats.
Top Israeli security officials were holding consultations late Wednesday. The Israelis said they were still weighing their options on how to respond, and there were no preparations under way for an immediate reaction.
The officials, speaking on condition of anonymity because they were discussing a sensitive security matter and were not authorized to give details to reporters, said any reaction would probably be a pinpoint operation limited in scope, most likely under the auspices of the Mossad spy agency.
The officials said security officials are also concerned about further attacks, similar to a string of incidents in India, Georgia and Thailand earlier this year, and were reviewing security at potential Israeli targets, such as airline terminals and diplomatic installations.
The Bulgaria bombing, however, was not expected to have any bearing on the separate matter of whether to attack Iran's nuclear program.
Israel considers a nuclear-armed Iran to be a threat to its existence, citing Iranian calls for destruction of the Jewish state, its sophisticated missile program and its support for Israel's bitterest enemies.
Iran says its nuclear program is solely for peaceful purposes — a position viewed with skepticism by the international community.
In Azerbaijan's capital of Baku, security officials in March announced the arrest of 22 suspects allegedly hired by Iran for terrorist attacks against the U.S. and Israeli embassies and other Western-linked sites.
Israeli officials also have long warned that the Iranian-backed Hezbollah would try to attack Israelis abroad. Hezbollah has accused Israel of assassinating a top leader in Damascus in 2008 and vowed to avenge the killing. Israel has never admitted involvement in the mysterious explosion.
Just this week, a foreign national was arrested in Cyprus on suspicion of plotting a possible terrorist attack. Israel blamed Iran and Hezbollah for this as well.
In statement, Israeli Defense Minister Ehud Barak cited Iranian-backed militants and other radical Islamic groups as the likely perpetrators of the Bulgaria bombing.
"We are in a continual fight against them. We are determined to identify who sent them, who perpetrated (the attack), and to settle the account," he said.
Israeli counterterrorism expert Boaz Ganor said Wednesday's attack was "likely not the last in a series," adding, "All this looks like Hezbollah, Iran or a combination of the two."
Despite repeated alerts and concerns of an Iranian-backed attack in recent months, Israel said it had no advance intelligence on a pending attack in Bulgaria.
The attack took place near the airport, shortly after a charter flight filled with Israeli youth landed at 4:45 p.m. local time.
Lieberman, the Israeli foreign minister, said he was briefed by his Bulgarian counterpart and informed that a bomb was planted in the bus as it transferring tourists from the airport.
He said there were six bodies at the scene and another person died at the hospital. Two others were in critical condition.
The identities of the victims were not immediately released.
Britain echoed the U.S. condemnation of the attack, with British Foreign Secretary William Hague offering condolences to the victims' families.
Late Wednesday, Israel announced it was dispatching a military medical and relief team to Bulgaria, a country of 7.3 million bordering Greece and Turkey.
The Burgas airport was closed and traffic redirected. In Sofia, meanwhile, Mayor Yordanka Fandakova ordered a stronger police presence at all public places linked to the Jewish community. There are some 5,000 Jews in Bulgaria and most live in the capital.
Bulgarian Prime Minister Boyko Borisov also called Netanyahu late Wednesday to offer his condolences.
___
Heller reported from Jerusalem.