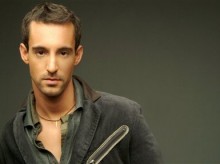 Israel's top recording artist Ivri Lider
JERUSALEM (AP) _ Late on a Friday night, inside a dark, trendy club, a crowd of young men and women gaze at Ivri Lider and sing along as he performs his hit love song, "Zachiti Le'ehov – I Was Blessed To Have Loved," an ode to the end of his romance with a longtime boyfriend. Outside, Jerusalem stands still, as the largely religious city observes the Jewish Sabbath.
This odd juxtaposition is just one of many in the life of Lider, who doubles as Israel's top recording artist and its most recognizable homosexual. This dual status, and the way mainstream Israel has openly embraced him, has also catapulted him into a celebrity at home, and an unlikely ambassador for the Jewish state abroad.
Lider, 32, is a critically acclaimed musician with an enormous fan base, both gay and straight, male and female. His four records have all gone platinum or gold, he's a multiple "male singer of the year" award winner from Israeli broadcasters, and his numerous hits seem to constantly be playing on Israeli radio and TV music stations.
But ironically it's his lifestyle that has turned him into a true cultural icon, a symbol for a new generation of Israelis who openly challenge conservative conventions yet remain patriotic to the oft-maligned nation.
"I'm a proud Israeli," he said, sipping a glass of orange juice at a Tel Aviv cafe. "I am not that old Zionist that will say everything is great, but this is still a pretty cool place."
His ability to present the complex, often contradictory, elements of Israel made him a compelling candidate for Israel at Heart. The nonprofit organization is dedicated to promoting a better understanding of Israel and has dispatched hundreds of young Israelis on grassroots missions to the U.S. to meet with students and opinion makers and pitch a side of Israel not often seen through the lens of the conflict-dominated media.
GETTING TO KNOW AMERICA
Last fall, Lider embarked on a nine-city concert tour that included gigs in New York, Boston, Washington, Chicago, Los Angeles, and San Francisco. Aside from rocking out (often in a T-shirt bearing the slogan "I love my country"), Lider also met with groups of college students and gay activists, exposing them to Israel's lesser-known funky side.
"It was very interesting to hear what they had to say and what they know about Israel, and mostly what they don't know about Israel," he said, upon his return. "I think some of them were a little surprised."
He said Americans were shocked that someone openly gay could be so successful and popular. Even in America, they noted, major artists remained closeted. Though the furthest thing from a seasoned diplomat, Lider said he welcomed the opportunity to represent Israel. "If it helps the country, if it helps open people's mind a bit, I'm happy to do it," he said.
Lider, whose first name Ivri translates directly into "Hebrew," feels comfortable in America, and in English, and would even consider moving stateside at some point. The city of West Hollywood recently awarded him the key to the city, for being a role model in the gay community. On another recent trip to New York, he met his current boyfriend, a speechwriter from Washington, who will soon be moving to Israel.
However, the light Israeli lilt in Lider's English-language performances reminds him of where his heart truly lies.
"I'm not American. I was born here and I grew up here," he said. "You don't have to be American, you have to be who you are."
That's the formula that has worked so well for him at home.
MAKING OF AN ICON
When he came out of the closet five years ago, his family and friends feared it would destroy his career. But his record sales and concert tours have only skyrocketed since, as has his public stature.
Though naturally bashful, he said he has willingly taken on the role as unofficial spokesman for Israeli's growing gay community.
"There is something in art that is egoistic. You are dealing primarily with yourself," he said. "I felt I had an opportunity to do something significant, not just for me."
Even more importantly, he has destigmatized gays in the eyes of many in the Israeli public, due to his crossover appeal to the very different sectors in society.
"He's very accessible to straights; there is something very unthreatening about him," said Gal Uchovsky, a gay filmmaker and music critic. "The girls still love him and the guys are cool with their girlfriends adoring him."
Still, Lider often pushes the envelope. He performed the theme song in "Yossi & Jagger," a controversial 2002 movie Uchovsky and his partner Eytan Fox made about two Israeli combat soldiers who fall in love on the front lines. In another Fox-Uchovsky collaboration, "The Bubble," which deals with a gay relationship between an Israeli and a Palestinian in the hip bastions of Tel Aviv, Lider appears and sings his own rendition of the Gershwin classic "The Man I Love."
Lider acknowledges that a male-to-male version was probably not what the famous composer had in mind.
"He's the most successful rock star of his generation and certainly the most interesting," said Uchovsky. "He's the only one that has succeeded in becoming a true rock star."
And unpredictable, too. Last November, Lider hit the headlines when he surprisingly came out against the planned gay parade in Jerusalem, which had city's ultra-Orthodox Jews and devout Muslims threatening violent protests.
"I thought it was a provocation and didn't think it was worth the risk. There are some things that are appropriate for Tel Aviv and not for Jerusalem," he said.
Instead, he suggested taking the high road, and the parade was ultimately replaced by a scaled down festival. "I respect others even if they don't respect me," he said.