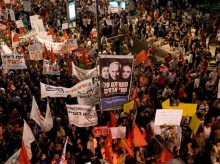 Israelis protest over cost of living in Israel. (AP Photo/Ariel Schalit)
Israel's popular revolt over rising prices and expensive housing has inspired its first YouTube sensation.
With over 100,000 Israelis taking to the streets, Tel Aviv-based musician and Internet buff Noy Alooshe married protest footage with an old Benjamin Netanyahu TV interview to create the video. In it, the Israeli prime minister waves his hands from side to side in time to the beat, repeating the word "shake" to the tune of dance music.
And shake the protesters do, waving banners and chanting slogans in demonstrations that have turned into the greatest domestic crisis of Netanyahu's two and a half years in power.
The issue, in a nutshell: Israel is one of the most expensive countries on the planet. A simple, 1,000-square-foot apartment will easily run you at least $600,000 in Jerusalem or Tel Aviv, a new car — say, a Honda Civic — runs upwards of $35,000 and a gallon of gas is about $8.
Hence the protests, which direct much of their frustration toward the government. Netanyahu's Likud Party argues that the protests are politically motivated and aimed at knocking him out of power.
Against this background, Alooshe's video clip satirizes Netanyahu's boasts in a recent interview that Israel is an island of stability in an unstable region. In 100 frenetic seconds, Netanyahu's comments mix with chanting crowds saying "the people demand social justice."
Alooshe calls his genre a "musical interpretation of a news event" and says the Netanyahu interview contrasts perfectly with the angry messages of the protesters.
It's not the first time the 31-year-old Alooshe has made noise by weaving together music and political speeches.
In February, he laid down a fiery Muammar Gadhafi speech onto a techno track to produce "Zenga, Zenga," which became a worldwide spectacle that attracted millions of YouTube views.
Aron Heller is an AP reporter based in Jerusalem.