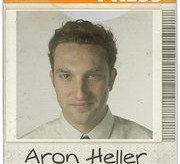 AP's Aron Heller
JERUSALEM (AP) _ When I arrived in Israel one year ago, Ariel Sharon was the prime minister, Hamas was a radical Palestinian opposition group, and Israeli troops were just leaving Gaza — and long gone from Lebanon.
Its become a cliché to say there is never a dull moment in the Middle East. Even so, it's hard to recall a year in recent history with such a steady pace of dramatic, defining moments. I've been fortunate enough to witness them, and report on them.
Ironically enough, it was just this kind of intensity I was trying to escape when I left Israel in 2003 after covering the first three years of the current Palestinian uprising, or Intifada. It always seemed as if one crisis was following another, with a never-ending stream of breaking news.
My two years away, first in New York and then in Ottawa, Canada, were no exception. Fighting raged on, and, most notably, Yasser Arafat died after leading the Palestinians for 40 years. Naturally, I stayed informed, but I enjoyed doing so from a distance, where I could observe with more perspective, without becoming quite so immersed.
When I was offered the job as an Associated Press correspondent in Jerusalem, I had my reservations, but I ultimately decided to go for it. To me, the Israeli withdrawal from the Gaza Strip presented a potential shift in the nature of a story that, in my mind, had become boring and repetitive. Conflict and occupation. Terrorism and counterterrorism. Now, perhaps, a different story would emerge.
DIVING IN
In my new job, I jumped right into the mix, embedding with the Israeli troops as they pulled out of Gaza on Sept. 12, 2005. Soon enough I found myself surrounded once again by blood as I covered the suicide bombings in the coastal cities of Hadera, Netanya and Tel Aviv.
Then there were the political storms, one after another:
— Amir Peretz came out of nowhere to depose Shimon Peres and take control of Israel's Labor Party.
— Ariel Sharon bolted Likud, decimating what was Israel's main ruling party for the past three decades. He established a new party, Kadima.
— In January, Sharon had a massive stroke and fell into a coma, ending his political career.
— The Islamic militant group Hamas scored a stunning victory in the Palestinian parliamentary elections, reshuffling the Palestinian front and sending the West Bank and Gaza into disarray.
— Sharon's heir apparent, Ehud Olmert, was elected prime minister of Israel. (I accompanied him twice to Jordan as he worked to implement a large-scale, unilateral withdrawal from the West Bank.)
Meanwhile, Iran continued its pursuit of nuclear power, all the while threatening to "wipe Israel off the map."
And when the summer arrived and I thought things were starting to quiet down, I found myself running down to Gaza again after Palestinian militants crossed into Israel and kidnapped Cpl. Gilad Shalit, sparking a major Israeli offensive.
Just over two weeks later, Hezbollah guerrillas attacked Israel from the north, kidnapping two Israeli soldiers and sparking a 34-day war. I wrapped up my first year at the AP by reporting on the war from the Israel-Lebanon border for more than three weeks.
LOOKING BACK, LOOKING AHEAD
Looking back at it all, I am overwhelmed by the scurrying series of events. But at the same time, I am struck by a single, sad conclusion — in the Middle East, the more things change, the more they stay the same.
Like a hamster on its wheel, or a swing set in the park, there is always movement, there is always action, there is always news, but essentially, nothing really changes. Particularly for Israelis and Palestinians, where there is a constant feeling of one step forward and one step back.
If you look back at newspapers, 10, 20, even 30 years ago, the story looks eerily similar. And yet this area remains one of the world's hotbeds of news, an enviable assignment for any reporter.
As for the coming year: It should be no different. The future remains uncertain, the potential for war ever present, the appetite for news seemingly insatiable.