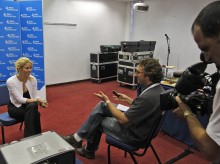 Aron Heller interviews Shakira (AP Photo/Tara Todros-Whitehill)
JERUSALEM (AP) _ Colombian pop singer Shakira promoted her global education campaign with a stop at a joint Israeli-Arab school in Jerusalem on Tuesday.
Kicking off Israel's third annual Presidential Conference with a plea for children's education worldwide, Shakira, a U.N. Goodwill Ambassador, said the Holy Land was the "perfect place to talk about how urgent it is to invest in education."
"The most crucial decision we can make for a better tomorrow is how we educate our children," she said, speaking alongside her host, Israeli President Shimon Peres.
"How wonderful it would be if the world would act like a team. We have so many challenges ahead of us, so many problems to solve," she said. "This is the time to behave like a team, to wear the same T-shirts and to win the match of discrimination, to win the match of inequality and segregation."
Shakira, 34, whose many multilingual hits include "Hips Don't Lie," "Whenever, Wherever," and "Waka, Waka," has established a number of charitable foundations dedicated toward advancing education.
At the Max Payne "Hand in Hand" School in Jerusalem, Shakira heard Jewish and Arab students sing songs and even performed part of her "Waka, Waka" dance, made famous at last year's World Cup in South Africa.
Born Shakira Isabel Mebarak Ripoll in Colombia, she has Lebanese roots. This is her first visit to Israel.
In an interview with The Associated Press, Shakira said she had great respect and love for the people of Israel.
"I'm very proud of my Lebanese heritage … but it has nothing to do with the fact that I respect and have great affection for this country and the people of this country, both Israelis and Palestinians, and that's why I'm here, because I think that kids need us _ kids don't understand about conflicts," she said.
Shakira said her experience in developing countries and charitable foundations persuaded her that investing in future generations was the answer.
"I am convinced that the road to peace has to be traveled hand in hand with education because that is the only way perhaps that we are going to achieve global stability and peace," she told the AP.
Shakira was the most high-profile international guest to take part in Peres' third annual "Israeli Presidential Conference" _ an event that attracted 1,700 figures from outside Israel.
The diverse guest list ranged from U.S. comedian Sarah Silverman to Wikipedia founder Jimmy Wales, European Central Bank chief Jean-Claude Trichet and former British Prime Minister Tony Blair.
The three-day event focuses on "the issues of tomorrow _ in Jewish life, in world affairs, in Israeli development, in all domains _ science, technology, politics," according to Peres.
Shakira began her comments alongside Peres with a single "shalom" _ Hebrew for both hello and peace _ and after a young girl presented her with a necklace, she said "toda" _ Hebrew for thanks.
The previous day, Shakira visited Jerusalem's Western Wall, the holiest site where Jews can pray. Shakira was accompanied in Israel by her boyfriend, Spanish national football team star and Barcelona defender Gerard Pique.