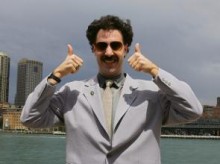 Sacha Baron Cohen as Borat
JERUSALEM — Like moviegoing masses around the world, Israelis have crowded theaters to watch the hit spoof Borat. But they are laughing for another reason: They actually understand what the anti-Semitic, misogynist Kazakh journalist is saying.
Few realize that comedian Sacha Baron Cohen's wacky comedic creation, Borat Sagdiyev, is not speaking Kazakh or even gibberish, but rather Hebrew, the biblical language of the Jewish people.
The 35-year-old British comedian is no stranger to Israel. He is an observant Jew, his mother was born in Israel and his grandmother still lives in Haifa. In high school, he belonged to a Zionist Jewish youth group, Habonim Dror, and upon graduation spent a year working and studying on a kibbutz, or collective farm, in northern Israel. He has since returned for several visits, his Hebrew is excellent and his understanding of Israeli culture superb.
The irony of a Hebrew-speaking anti-Semite is not lost on the admiring Israeli audience, which has made the movie a huge hit here.
"It is extremely funny and kind of cool to realize that you are understanding something no one else does," said Gaby Goldman, 33, of Tel Aviv. "It's not just the Hebrew but also the way he speaks. He sounds almost Israeli, he sounds like one of us."
Israelis begin giggling right from the opening scene, when Borat departs his hometown in Kazakhstan for the "U.S. and A.," assuring a one-armed man in fake Kazakh: "Don't worry I will bring you a new hand in America."
The subtitles give the direct translation, but there's no need in Israel. It merely repeats what Borat has just said in his impeccable Hebrew.
The film is peppered with Hebrew expressions and Israeli slang, inside jokes only Israelis could truly appreciate. In one scene, Borat sings the lyrics of the legendary Hebrew folk song Koom Bachur Atzel, meaning "get up lazy boy." Later, he refers to a Kazakh government scientist, "Dr. Yarmulke," who proved that a woman's brain is the size of a squirrel's. Even Borat's signature catch phrase — "Wa wa wee wa," an expression for wow — derives from a skit on a popular Israeli comedy show and is often heard in Israel.
The movie's comedic climax — an over-the-top, full-frontal male nude wrestling scene — is sparked when Borat curses his sidekick Azamat with a vulgar, Hebrew expletive.
Uri Klein, movie critic for the Israeli daily Haaretz, said the Hebrew-sprinkled dialogue gave Israelis watching the mockumentary some added value and created an empathy with the Israeli audience.
"We are the only ones who know what he is talking about," he said.
Baron Cohen almost never appears in public out of character. His Los Angeles-based publicist declined several requests to interview Borat in English — or Hebrew. But by all accounts, Baron Cohen is the opposite of the anti-Semitic journalist he portrays.
He is said to keep kosher and observe the Jewish Sabbath, and his fiancee, Australian actress Isla Fisher, has converted to Judaism. His ties to Israel run deep and he still has an extended family here.
Attempts to reach his Israeli relatives were unsuccessful — Baron Cohen fiercely guards his and his family's privacy. But people who remember him from his days on Kibbutz Rosh Hanikra recall a funny guy.
"He was a very sweet boy, always smiling," said Moshe Tarazi, who hosted Baron Cohen for a year and conversed with him solely in Hebrew.
In a rare interview out of character, Baron Cohen told Rolling Stone magazine that he uses Borat as a tool to unearth the bigotry of others. "By himself being anti-Semitic, he lets people lower their guard and expose their own prejudice," he said.
Some American Jews fear Baron Cohen's humor will go over people's heads and reinforce bigotry. But in Israel, Borat's fans are clearly in on the fun.
Oded Volovitz, 32, said he and 10 friends who went to the movie together laughed so hard, they were reprimanded by the theater's usher.
"It was sort of like a wink to the Hebrew speaker," Volovitz said. "It was a message that basically said, 'Although the movie is very anti (Jewish), I am still with you, I am still the same Mr. Cohen. I'm just trying to send a message here and I hope you guys understand it.'"