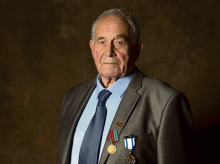 Shimon Greenhouse
Time is running out: Few survivors with strong memories remain – most of the firsthand stories we hear nowadays are from the perspective of children, maybe teens. Column published in The Times of Israel.
Holocaust Remembrance Day is perhaps the most solemn on the Israeli calendar. It's a day when the country literally comes to a standstill to honor the victims of the worst tragedy to befall the Jewish people.
But for me, it has also traditionally been a very busy "work" day. As the longtime Jerusalem correspondent for the Associated Press it was a day of deadlines to file stories on speeches and ceremonies and, most notably, publish one of my annual features on a different legacy of the genocide.
My main job at the AP was naturally to cover politics, military affairs and the endless Mideast conflict. But the beat which I carved out for myself, and which I most cherished, was that of the resident reporter on Holocaust-related issues.
Nothing in my career filled me with as much pride as the dozens of stories I've produced from encounters with Holocaust survivors, many of whom confided in me to tell their stories for the first time. It was the closest thing I had to a mission statement as a journalist and the stories were among the most rewarding that I've ever written.
The backdrop to them all in recent years was the same: time is running out; a post-survivor world is fast approaching. I felt a great sense of urgency to seize this final window to log these powerful individual sagas into the archive of human history in hopes that my work could help prevent their plight from being denied.
The sad truth is that, today, very few survivors with strong, firsthand memories remain. It has been 76 years since World War II ended and those healthy and cognizant enough to clearly articulate their own stories do so from the perspective of children, maybe teenagers.
Yes, there are copious amounts of video testimonies that have been filmed and even converted into holograms to try to recreate the powerful impact of a survivor's recollection. But nothing compares to meeting these people in the flesh.
Over the past 15 years, I've done so. I witnessed siblings reunited who had thought each other dead for 65 years and I brought together men who last met standing one after the other in the tattooist's line at Auschwitz. I chronicled the last known survivor of the famed Treblinka revolt and I profiled one of the last liberated Auschwitz inmates who was tortured by Dr. Josef Mengele. I met devout Jews and explored how their Holocaust experience affected their faith, and I visited with some of those for whom the nightmare never ended – and whose trauma drove them into mental institutions.
In recent years, it was a mad dash of cobbling together anecdotes and angles to further fill the archive, whether it was individual horror stories, the effort to preserve their artifacts and finally documenting those who died of the coronavirus.
On my first Yom HaShoah not covering the day as a journalist, I sought to connect once again with some of these dwindling number of survivors. At a "Zikaron BaSalon" (Living Room Remembrance) session in my neighborhood last week, I listened to a woman – just an infant during the war – painfully convey a disjointed account of her mother's survival story in occupied France. She told how the mother was separated from her husband, saw her parents taken off to death camps and then traversed the countryside alone with her infant, dodging several close calls with Nazi troops and collaborating French officials.
The emotion was there but the context was not, and she was telling her mother's story, not her own.
I thought about that the following morning as I stood on the street for the two-minute siren signaling the yearly ritual of remembrance. This would be the future of commemoration: second and third-generations of survivors trying to recreate accounts that despite all we know still often seem unimaginable, especially when not conveyed by the subjects themselves.
That afternoon, though, I was fortunate enough to once again be reminded just how powerful such firsthand testimony can be.
Shimon Greenhouse, 91, grew up in the village of Krasna, today part of Belarus, and with the German invasion in 1941 he and his family were placed in a ghetto that was rife with disease and hunger. One by one, his extended family members were taken away, never to be seen again.
A year later Greenhouse was rounded up with his father and lined alongside other men at the main square. A Nazi soldier shot his father in the back of the head.
"My father fell into the snow and I was holding his hand and I fell in the snow too. By holding my hand, he saved my life," recalled Greenhouse.
Dazed and covered in blood, Greenhouse remained under his dead father for a full day before family members pulled him out. He was 12 at the time.
In 1943, the ghetto was liquidated and most of its Jewish inhabitants were placed in barns that were set ablaze. Among those burned alive were his older brother and sister.
Ill with typhus, the young Greenhouse was unable to walk. His mother carried him to the surrounding forests where they joined the underground partisan fighter movement and took part in sabotage missions against Nazi transit routes. They ate roots and weeds to get by and had no shoes or warm clothing throughout the cold winter.
Greenhouse helped the partisans with chopping trees but lost three fingers on his left hand in an accident. Without proper medical treatment, the fingers went gangrene and only a makeshift surgery in the woods saved the rest of his arm.
After the war, he completed high school and earned a university degree in mathematics. In 1960, Greenhouse emigrated to Israel with his mother, his only surviving relative. He later married, had four children of his own and became a high school principal.
"I feel a great obligation to give testimony," explained Greenhouse. "It took me decades to open up, but there are those out there who diminish and deny the Holocaust and we can't let that happen."
"I've been through a lot, but I've learned you can overcome anything. And I've learned that anywhere you can do good, you should," he added.
Nothing is as empowering as hearing such words from such a person. We need to appreciate and cherish survivors like Greenhouse today, and every day, because they won't be around much longer to remind us of our people's painful history and teach us the hard-earned lessons of their lives.