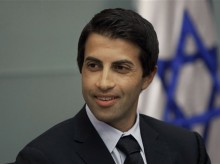 Mosab Yousef at the Knesset. (AP Photos/Sebastian Scheiner)
JERUSALEM (AP) — As a youth, Mosab Yousef was a member of the Palestinian upper crust, the son of a respected founder of the Hamas militant group. On Monday, he returned to the region in the most unlikely of homecomings — welcomed at Israel's parliament as a hero for renouncing the violent ideology of his father's movement and serving as an undercover Israeli spy for a decade.
Saying he had returned "home," Yousef walked the halls of Israeli power like a celebrity, stopping to chat with well-wishers and signing autographs for supporters. The visit marked just the latest chapter in an astonishing journey that has transformed him from a Islamist extremist in the West Bank to a devout Christian and successful author in southern California.
Two years ago, Yousef published a shocking autobiography, "Son of Hamas," in which he described his years of service as a secret Israeli agent.
Groomed to be his father's successor, Yousef became one of Israel's most valuable intelligence assets and is said to have prevented suicide attacks and helped hunt down dozens of militants. Hamas considers him a traitor, and his father, Sheik Hassan Yousef, who is imprisoned in Israel, has disowned him.
"I was born to be something, and I chose for my life something else," he told The Associated Press. "That meant to give up everything that you had. I had to go beyond culture, beyond religion, politics, nationalities. I had to lose everything."
The U.S. granted him temporary asylum in 2010 after abruptly dropping concerns he was a terrorist threat.
It was Yousef's first trip to Israel since he left for the U.S. in 2007. While he looked forward to touring Israel and Jerusalem, he said he was saddened that he couldn't yet visit his hometown of Ramallah, where if caught he would likely be killed. Yousef's collaboration with Israel makes him a traitor in Palestinian society.
"I believe there will be a generation that will praise peace and forgiveness, and at some point I will be able to go back when the situation is different," he said.
Saying he still loves his father, Yousef urged the man to follow his path, reject the violent Hamas ways and fight against the "monster he created."
"Did I betray their principles? Yes. Did I betray their ideology and their way of life? Yes, I did. But I did not betray them as people," he said, adding that he insisted that in exchange for his help, Israel promise to arrest his father, not kill him. "Without me being in the picture, he would have been killed 10 times in a row," he said.
In a handwritten note published on a Hamas-affiliated website, Yousef's father lashed out.
"This man no longer belongs to me or to my family or to Islam," he said. "This media phenomenon about him is part of the Zionist conspiracy against our people and against Muslims and the freedom fighter movements. Such reports will not affect the will and steadfastness of any of my family, including me."
In his memoir, Yousef described growing up hating Israel and admiring the violently anti-Israel militant Islamic group his father helped found more than two decades ago. Israeli forces imprisoned him in 1996, but he says he became disillusioned with Hamas while in prison.
He began working with Israel's Shin Bet security service, which routinely tries to recruit Palestinians of all factions as informers, including those in prisons.
With his unparalleled access to Hamas's upper echelon, Yousef became an intelligence gold mine and was dubbed "The Green Prince" — a reference to his Hamas pedigree and the Islamists' signature green color.
Now living in Los Angeles, Yousef said he was busy working on production of a movie based on his memoir.
Officially, the Israeli government has not commented on Yousef's background.
His former Shin Bet handler, Gonen Ben-Itzhak, has stated that hundreds of Israelis and Palestinians owe their lives to Yousef for preventing violence.
"There is something special about him, an ability to see things critically that is very rare," he said at parliament, during Yousef's tour. "He's an example of a person who made a very difficult moral choice."
Ben-Itzhak said he was constantly worried about Yousef's safety, saying he was a target everywhere he went.
Yousef said he would not be burdened by the threat.
"Even if they can kill me, they cannot kill my ideas, they cannot kill my soul, they cannot kill this amazing journey for forgiveness and freedom," he said. "With that said, I am at peace and I choose to live like a free man."