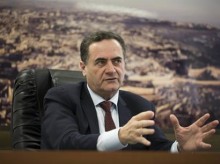 Israel's transportation and intelligence minister Yisrael Katz speaks during an interview with The Associated Press, in his office in Tel Aviv, Israel. (AP Photo/Dan Balilty)
TEL AVIV, Israel (AP) — Israel's powerful transportation and intelligence minister says he is pushing forward with a proposal to build an artificial island with a seaport off the coast of Hamas-ruled Gaza that he believes will alleviate hardship in the blockaded territory and offer residents their first real bridge to the outside world in a decade.
With an independent Palestinian state unlikely anytime soon, Yisrael Katz told The Associated Press that an island for moving goods in and out of Gaza was part of his broader goal of creating regional security and "economic peace" between Israel and its neighbors. The plan has been derided by critics as impractical but presents a bold platform for Katz, who speaks openly of succeeding Benjamin Netanyahu even as the embattled prime minister faces a series of potentially devastating corruption probes.
Katz's plan calls for an eight-square-kilometer (three-square-mile) island linked to Gaza by a five-kilometer (three-mile) bridge. The island, estimated to cost $5 billion, would take five years to build and include a seaport, a power station, a desalination plant and perhaps a future airport. Israel would supervise security but it would otherwise be run by the Palestinians and the international community — which he says would mark the completion of Israel's 2005 withdrawal from Gaza.
"No Palestinian can oppose this, not Abu Mazen and not Hamas, because it gives them an opening to the world," Katz said in an interview at his Tel Aviv office. "In an absurd way, we are giving Hamas the keys to the world's largest prison."
West Bank-based Palestinian President Mahmoud Abbas is also known as Abu Mazen.
The Palestinians have greeted the plan with skepticism, concerned that it is an Israeli power play whose real aim is to cement control over Gaza and further sever the territory from the West Bank. The Palestinians seek both territories, which are divided between rival governments, as parts of a future state.
Israel destroyed Gaza's airport during the second Palestinian uprising in the early 2000s, and it restricts access to Gaza's small seaport, mostly to local fishermen.
Nabil Shaath, Abbas' adviser for foreign affairs, said the Palestinians have their own plans for developing Gaza's coastline. "We are capable of taking care of ourselves. All we need is for Israel to leave us alone and lift the siege on Gaza," he said.
He said Israel has rejected a number of initiatives over the years on security grounds. These include a French-Dutch offer to build a seaport in Gaza and a proposal for the Palestinians to rent a port in Cyprus, where international inspectors could check all cargo before it is shipped to Gaza.
"Katz's idea is to build a place that will be easy for Israel to control," he said. "Israel is the main reason for the crisis in Gaza and it is the obstacle in the way of our development."
Hamas, the Islamic militant group that controls Gaza, declined comment.
Arie Arnon, the Israeli coordinator of the Aix Group, a joint Israeli-Palestinian think tank, said Katz should be lauded for trying to tackle the complicated Gaza crisis, but that his island initiative was merely a "gimmick" since it came unilaterally and did not address the core of the problem.
"He wants a backdoor solution," he said. "The problem in Gaza is political, not technical."
While the plan seems like a long shot, the idea has helped brand Katz as a creative thinker. The veteran Cabinet minister is currently Netanyahu's top deputy and has long been a power broker in the ruling Likud Party but remains generally unknown internationally.
Katz made it clear he considers himself Netanyahu's natural successor but would not challenge the prime minister as long as he remains in power.
"The day he retires, I am running for head of Likud and prime minister," Katz stated.
The next Israeli election is not scheduled until 2019, and Netanyahu has given no indication of stepping down. But he faces a series of police investigations into possible corruption, including suspicions that he accepted expensive gifts from Israeli billionaire Arnon Milchan, that could potentially force him to resign. The media buzzes daily with reports of the police investigations.
Katz says he is serious about the island plan, which he believes could bring much-needed relief to the people of Gaza at a time of political impasse.
Israel and Egypt imposed a blockade on Gaza after Hamas seized power from the internationally backed Palestinian Authority in 2007. Repeated reconciliation attempts between Gaza and West Bank governments have failed.
Israel says the blockade is needed to prevent arms from reaching the Islamic militant group, which is sworn to Israel's destruction and has fought three wars with Israel since the takeover. Over the years, Gaza has frequently been used to launch rocket attacks against Israel.
But critics say the closure amounts to collective punishment of Gaza's roughly 2 million residents. The blockade has hit Gaza's economy hard and prevented most residents from moving in and out.
Israel currently allows about 850 truckloads of goods into Gaza each day, but aid groups and U.N. officials say this is not enough to meet Gaza's needs, especially as it rebuilds from a 2014 war.
Katz said the island would be in international waters and could provide economic independence to Palestinians while allowing Israel to still vet security.
He said Israel's security establishment backs the plan, and he is pressuring Netanyahu to bring it up soon for a Cabinet vote. After that, international bodies would have to get involved in the implementation and funding.
Katz said he has gotten positive feedback from the U.S. and from Arab countries and that he believes wealthy Arab governments would pick up the hefty tab, though he declined to identify them. Officials in Saudi Arabia and with the Gulf Cooperation Council did not immediately return messages seeking comment.
The U.S. State Department did not immediately respond to a request for comment.
Katz said Israel will not negotiate directly with Hamas, which it considers a terrorist group. But he said he has received indications that the Western-backed Palestinian Authority would welcome such a plan — a claim the Palestinians deny.
Although he himself opposes the creation of a Palestinian state, Katz said none of his initiatives inhibit future negotiations. "I'm talking about an interim arrangement for 10 to 15 years that can lower violence and friction, loosen the reins on the population and let them develop," he said.