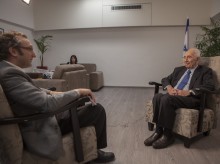 Aron Heller interviews Shimon Peres in Jerusalem (AP Photo/Dan Balilty)
JERUSALEM (AP) — Over a seven-decade career in politics, Shimon Peres has helped guide Israel through wars and existential threats. But now, with the country embroiled in a new wave of violence, the 92-year-old elder statesman worries that if its leaders do not get serious about pursuing peace with the Palestinians, it will be in an eternal state of war and risk losing its Jewish majority.
In an interview with The Associated Press on Monday, the former president stopped short of directly criticizing Prime Minister Benjamin Netanyahu. But he also made no secret that the values he and the assassinated Prime Minister Yitzhak Rabin inherited from Israel's founding father, David Ben-Gurion, were in jeopardy.
"Better to have a Jewish state on part of the land than have the whole land without the Jewish state," he said. "Israel should implement the two-state solution for her own sake because if we should lose our majority, and today we are almost equal, we cannot remain a Jewish state or a democratic state.
"That's the main issue, and to my regret they (the government) do the opposite."
Peres negotiated the first interim peace accord with the Palestinians in 1993, known as the Oslo Accords, which set into motion a partition plan that gave the Palestinians limited self-rule. But after a fateful six-month period in 1995-96 that included Rabin's assassination, a spate of Palestinian suicide bombings and Peres' own election loss to Netanyahu, the prospects for peace began to evaporate.
Today, senior members of Netanyahu's hard-line government have declared Oslo dead, Palestinian leader Mahmoud Abbas irrelevant and a Palestinian state nothing but a dangerous fantasy.
Netanyahu only begrudgingly accepted the concept of a Palestinian state in 2009. But he never appeared to fully embrace it and has since distanced himself from the comments.
Netanyahu accuses Abbas of inciting a current six-week wave of Palestinian attacks and just recently said Israel had to accept that peace is unlikely and continue living "by the sword."
Those comments clearly rankled Peres, who had previously negotiated on Netanyahu's behalf with Abbas and still considers the Palestinian leader Israel's best potential partner for peace.
"The alternative to two states is a continued war and nobody can maintain a war forever. If you say we should live on our sword don't forget that there are other swords as well," he said.
Peres said that Netanyahu's peace overtures have never "escaped the domain of talking."
"A politician and a government should be judged by one way only, on the record of what you do or did, not on what you say," he said.
Peres has filled nearly every position in Israeli public life since he became the director general of the Defense Ministry at the age of 25 and spearheaded the development of Israel's nuclear program. A protégé of Ben-Gurion, Peres was first elected to parliament in 1959.
He has since held every major Cabinet post — including defense, finance and foreign affairs — and served three brief stints as prime minister. His key role in the first Israeli-Palestinian peace accord earned him a Nobel Peace Prize — along with Rabin and Palestinian leader Yasser Arafat — and stature abroad as a revered statesman.
Since finishing his seven-year term as president last summer, Peres has continued promoting peace and development in the Middle East through his non-governmental Peres Peace Center.
A self-described eternal optimist, Peres says he doesn't like to think of the past, calling it a "waste of time."
But on the occasion of the 20th anniversary of Rabin's killing by an ultra-nationalist Jewish extremist opposed to his peace efforts, he candidly recalled the night that many see as a turning point in Israeli history.
He said the massive peace rally in Tel Aviv on Nov. 4, 1995 was the happiest day in Rabin's life and the best moment in their decades-long tortured rivalry. "We were in a total agreement and really we were encouraged," he said.
He said moments before they were set to leave the stage together in a show of unity, Israel's Shin Bet security agency informed them of a threat to both their lives — from an Arab, not a Jew. Peres descended the stairs ahead of Rabin and stood in front of the open door of his car when the three deadly shots rang out. His security guards shoved him into the vehicle and whisked him away.
At the hospital, doctors informed Peres that Rabin had died and he broke the news to Rabin's widow, Leah. Then they both saw the body and he kissed Rabin on the forehead.
"His face was happy, like a man who finally got complete rest," he said. "I am sure that if he were alive he would have made peace with the Palestinians as well."