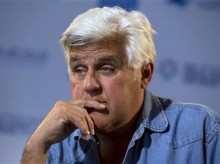 American comedian Jay Leno pauses during an interview with the Associated Press. (AP Photo/Sebastian Scheiner)
JERUSALEM (AP) — After two decades of hosting "The Tonight Show," Jay Leno says his transition into retirement has been seamless.
Without the daily grind of hosting NBC's popular late-night show, Leno said he feels "liberated" to travel and invest more in his standup routines.
"Write joke. Tell joke. Get check. It's pretty simple. It's not a hard plan," he joked in an interview with The Associated Press.
This week he made his first trip to Israel, where he will host an award ceremony Thursday honoring former New York mayor Michael Bloomberg for his philanthropic efforts.
Leno is to perform in front of Bloomberg, Israeli Prime Minister Benjamin Netanyahu and other dignitaries at the first Genesis Prize ceremony in Jerusalem. Leno said both men would be fair game for playful jokes.
The 64-year-old Leno retired in February and was replaced by former "Saturday Night Live" star Jimmy Fallon.
"He's a great friend of mine and I think he is doing a terrific job," Leno said Wednesday. "At some point you realize it is time to step down … I'm having a good time now."
Leno said the best part was not having the burden of preparing for the show every day.
"You don't have to watch 'Noah' and all these other films, these kinds of kid movies. You get to a certain age where 'OK, I'm over the superhero thing,'" he said. "I don't have to do that anymore so that's fantastic!"
He said he'd gladly be a guest on Fallon's show at some point but was not itching to get back into TV yet.
"I have no problem doing that, but I think that once you leave you've got to let the ground lay fallow for a while," he said.
Along with his wife, Mavis, Leno has been one of the leaders of a growing boycott of the Beverly Hills Hotel, protesting the harsh new Islamic laws imposed by the sultan of the Southeast Asia nation of Brunei — who owns the hotel.
Leno said had no plans to be overly politically active and said he was just "doing what is right." Regardless, he said there was no way any of his convictions would find their way into his acts.
"That's the first rule of comedy: You don't put your cause ahead of the joke. People come to see you to be entertained, to have a laugh," he said.
But Leno, who also recently performed in China, London and Rome, had no problem professing his admiration for Israel at a time when pro-Palestinian activists have been urging entertainers to boycott the Jewish state.
"I'm a huge supporter of Israel and always have been," he said. "It is a democracy in the Middle East and I don't like to see the little guy getting picked on by the big guy."