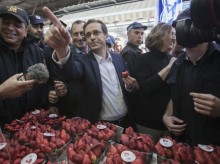 Then-leader of the center-left Zionist Union Isaac Herzog visits a market in Tel Aviv. (AP Photo/Oded Balilty)
JERUSALEM (AP) — Three years after he narrowly missed out on becoming prime minister of Israel, Isaac Herzog says he looks forward to becoming the "prime minister of the Jewish people" in his new role as chairman of the Jewish Agency.
The longtime Cabinet minister and outgoing opposition leader to Benjamin Netanyahu may be done with politics for now. But at a time of unprecedented strain between Israel and the more liberal Jewish Diaspora, the 57-year-old Herzog tells The Associated Press Monday he sees an even higher calling in heading the non-governmental organization devoted to bridging that gap.
"I was ready to be prime minister of Israel. I wanted to be prime minister of Israel. And yet now I am actually intrigued by this new challenge," he said from his nearly vacated office in parliament, where he had just resigned after 15 years in the Knesset. "We live in an era where we can drift into an irreparable crisis, an irreparable rift."
Most American Jews belong to the more liberal Reform and Conservative streams and feel alienated by Israel's ultra-Orthodox authorities, who maintain a strict monopoly over daily Jewish life in the Holy Land and question their faith and practices. The ultra-Orthodox establishment views other strains as too lax, and is deeply opposed to interfaith marriage and the ordination of women and gays.
A government decision to scrap plans for a mixed-gender prayer area at Jerusalem's Western Wall, and insults hurled at those pushing for it, has led American Jewish leaders to warn that it could undermine their long-standing political, financial and emotional support for Israel.
The recent passing of a controversial law enshrining the state's Jewish character, which critics at home and abroad say has undercut Israel's traditional democratic values, has also irked American Jews, who increasingly find themselves at odds with the government's nationalist, religious and pro-settlement bent.
Herzog promises to be the bridge and give a powerful voice domestically to the Jewish Diaspora. Ahead of taking office at the Jewish Agency on Wednesday, he said he met with all members of the country's governing coalition to deliver a stern warning.
"I explained to them openly and I said it both publicly and privately: 'Everything you say and hear in Israel hurts the hearts and gives a lot of pain to our Jewish brothers and sisters outside who love Israel, who respect Israel and who are part of its strength,'" he said. "There are enough elements who want to tear up this relationship, so calm down."
Herzog, a former Labor Party leader, succeeds former Soviet political prisoner Natan Sharansky as chairman of the Jewish Agency, where he will oversee an umbrella organization with a $362 million annual budget.
He brings with him a strong political legacy. His late father, Chaim Herzog, was president of Israel from 1983 to 1993 and was its ambassador to the United Nations. His uncle was legendary Foreign Minister Abba Eban.
Herzog was chosen over Energy Minister Yuval Steinitz, a close ally of Prime Minister Benjamin Netanyahu. Though the appointment was seen as a defeat for Netanyahu, Herzog vowed to work closely with his political rival and said they had a good rapport despite a hotly contested 2015 race for prime minister than went down to the wire.
Even so, he warned of equating the Jewish state and all its diversity with its polarizing, longtime leader.
"Israel is way bigger than the immediate term of this person or that person," he said. "Leaders come and go. We are a very vibrant democracy and sometime or another there will be a political change. I wasn't far away from this a couple of years ago and I am convinced it is possible again."
The Jewish Agency enjoys a legacy as the one-time government-in-waiting before Israel's 1948 founding, and David Ben-Gurion was its chairman before becoming Israel's first prime minister. It was then instrumental in orchestrating large waves of Jewish immigration to Israel. But some critics say that in the decades since it has become largely irrelevant.
"It portends to be the bridge, the connection between Israel and the Jewish Diaspora, but there is not much behind that," said Nahum Barnea, the country's pre-eminent columnist for the Yediot Ahronot daily. "It really has very little influence."
He said Herzog would be riding a "wooden horse" since Netanyahu already sees himself as the leader of the Jewish people and would do nothing to relinquish that role.
Herzog rejected the criticism that he was merely seeking a cushy job after losing his party's leadership, saying the crisis at hand was too great to ignore. He insisted it was a two-way street and vowed to bring the world's Jews closer to Israel as well.
"We have to be very careful. We can argue with Israel on many things, but we have to make sure that some of our haters and bashers will not be able to use it to undermine our right to exist," he said. "It still feels like family on both sides of the ocean."