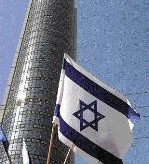 The Sha'ar Ha'ir (City Gate) building in Tel Aviv is the tallest in Israel
It's a common Hebrew expression: "holech al gadol," which translates directly to "going for big." In casual usage, the words describe an ambitious person but they also apply in a larger sense to 21st century Israel. Look just about anywhere in this country — from the heart of the Negev desert in the south to the R&D heartland of Haifa towards the north — and you'll see signs of a remarkable economic renaissance anchored by Israel's role as a high-tech proving ground.
The new cross-country super-highway, the massive state-of-the-art passenger terminal at Ben Gurion Airport and the sky-scraping Azrieli towers in downtown Tel Aviv are the most obvious manifestations. But you can see it, too, in the clusters of high-tech startups that radiate outward from Tel Aviv in ever-expanding waves.
The country's high-tech economy should be on its knees by now. It was hit by a double-whammy in 2000 when dot-com stocks crashed at almost precisely the same time as the Palestinians launched their second intifada. Israeli's entrepreneurs struggled to make do with meagre financing against the backdrop of a wave of suicide bombings.
Yet, as Israel and the Palestinians take the first tentative steps towards a possible accord, Israel's tech titans are in remarkably good shape — so good in fact that Israel is starting to challenge Canada as a tech power, not just in relative terms but dollar for dollar.
Consider that Israeli startups last year for the first time attracted more venture capital than Canadian firms — $1.4 billion compared with $1.36 billion (all figures U.S. dollars). Evidence of the global ambition of Israeli's entrepreneurs can be seen in the fact that more than 70 Israeli technology firms trade on America's two biggest stock exchanges.
Only Canada has more foreign listings on Nasdaq and the New York Stock Exchange, but many of these are energy, utilities and railway stocks.
When it comes to technology listings, Israel is the leader.
Collectively, the Canadian technology firms are worth more — $68 billion compared with not quite $53 billion for the Israeli tech companies. But considering Canada's proximity to the U.S. and its hugely bigger economy (eight times Israel's size), the performance of Israel's tech entrepreneurs is remarkable.
"Relative to the size of the country," says Efrat Zakai, director of research for Israel Venture Capital, "we are a dominant power in the global high-tech market."
The explanation? Start with an infectious entrepreneurial spirit nurtured by generous government backing of R&D. The latest manifestation: the launch in February of the $88 million Russell Berrie Nanotechnology Institute at Israel's oldest university, the Technion. (See separate story, F5). Like many Israeli research endeavours, the Institute has a strategic element. Its scientists will be developing a whole range of new products and materials engineered with perfect precision down to the level of dozens of atoms.
"We want to position Israel at the forefront of science and technology," says Prof. Uri Sivan, the director of the Institute. "A country that does not have research in the nano field will not be a progressive country."
Israel's prowess in high tech also owes a lot to the influence of the military, where many of Israel's engineers were trained. An important catalyst was the immigration in the early 1990s of thousands of trained Russian engineers. For good measure, throw in a tight global network of accomplished Jewish tech executives who offer Israeli entrepreneurs introductions to customers, technology partners and financiers.
And that still doesn't explain everything. Look closely at the track record of Israeli firms during the tech recession of 2001-2004, and you'll discover they weathered the storm better than many of their Canadian counterparts.
Call it what you will — an instinct for self-preservation, perhaps — but Israeli's global corporations played the recession with consummate skill.
The top Israeli performer, Teva Pharmaceutical, has tripled its market value in the past five years. It had a market capitalization earlier this week of $20.2 billion — nearly two-thirds higher than that of Canada's most valuable technology company, Research in Motion Ltd., the manufacturer of the BlackBerry wireless e-mail device. Few people have heard of Teva (pronounced TAY-va, Hebrew for nature). But with its acquisition of Toronto-based Novopharm in 2000, Teva became North America's largest maker of generic drugs, from antibiotics to painkillers.
The other Israeli giants — Amdocs (telecom billing software), Check Point Software (electronic firewalls) and Comverse Technology (voice recognition and call answering software) — have suffered substantial declines in share value since the tech peak. But they did not fall as far as Canada's stars such as Nortel, JDS Uniphase and PMC-Sierra. This is partly a matter of laser-like focus. In general, the Israeli firms did not get distracted as Nortel did and use inflated market values to buy their way into businesses they did not understand. They concentrated on the basics.
The Israelis also seemed to possess a deeper appreciation of the potential risks to their companies. They were (and still are) very careful to keep adding to their very strong reserves of cash. For instance, when Check Point suffered a $100-million drop in revenues in 2002 — the worst year of the tech bust — it still managed to produce a profit of $255 million. By year-end 2004, Check Point had $1.6 billion worth of cash on hand, roughly equivalent to three years of sales.
Amdocs, which experienced some losses during the recession, nevertheless finished up 2004 with $1.2 billion in the bank (eight months worth of sales) while Comverse had $2.25 billion in cash (the equivalent of more than two years of company revenues). Nortel, in sharp contrast, has only several months worth of cash on hand as a safeguard against unforeseen threats.
The big Israeli stars are the inspiration for literally thousands of national startups — and not just because they've achieved global stature. A lot of it has to do with the way the founders used natural Israeli strengths to build the businesses in the first place.
Gil Shwed, the billionaire CEO and founder of Check Point, spent four years with military intelligence units where he learned how to connect communications networks that had different levels of security.
That knowledge was the foundation of Check Point's first product line, a security firewall.
Amdocs founder Boaz Dotan got his start in the Israeli Ministry of Communications where he was put in charge of the telephone inquiries unit. Later Dotan would develop commercial billing systems for Aurec, the precursor to Amdocs.
Check Point, Amdocs and Comverse were all launched in the days before Israel really had a venture capital industry. They grew the hard way, by patiently adding customers one at a time and waiting for profits before adding new offices and equipment.
The real trigger for Israel's startup boom was the late 1990s purchase by America Online of Mirabilis, an e-mail firm run by three Israelis in their twenties. Mirabilis invented ICQ, the first significant internet chat service, and ushered in a seismic shift in Israeli society. Two of the founders were high school dropouts. Following the $400-million purchase, Israel went tech crazy and "start up" became a permanent term in Israeli vocabulary and a cultural symbol for success.
By 2000, more than $3 billion annually was being pumped into Israeli startups, 59 per cent of it from abroad. Although venture investments are down considerably from the boom — they're running about half the level of the peak — there is a feeling here that the worst is over. Not only are Israeli venture firms raising more money — $800 million last year compared to virtually nil in 2002 and 2003 — but there are signs Israel's startups are doing well where it counts. They're being bought for respectable prices.
The latest example is Verisity Ltd., an IT and enterprise software company that was acquired by Cadence Design Systems for $286 million.
Native Networks, a developer of high-speed optical networks, is another one. It was sold earlier this year to Alcatel for $55 million.
The company got started partly thanks to Skypoint Capital, a Kanata-based venture capitalist, who got in on the ground floor back in 1999. Gilad Goren, the founder and chief scientist, was a physicist before he decided to jump on the high-tech bandwagon.
"I said to myself, 'Everybody else is doing it. I'll get a start up, too,"' he said. "Everybody wants to be Mirabilis."
The company quickly raised $45 million and got to work. With the Intifada waging and foreign governments issuing travel advisories to their citizens not to travel to the holy land, Israeli entrepreneurs were forced to hit the road.
"I know I don't have a client in Israel. I don't have a problem to travel anywhere," said Goren. "We are a local branch of Silicon Valley."
It's something Israelis have become accustomed to. They make up for the physical distances with persistence and energy. Goren once took an overnight flight from Israel to New York to participate in a 9 a.m. meeting in New Jersey and returned to Israel that very night.
"We Israelis are crazy," he said with a smile.
Goren, 44, said the greatest success of his company was the mere fact they survived the bust. He didn't quite get the lucrative exit he had dreamed of, but he said he didn't have to worry about buying homes for his two young daughters either.
Goren now splits his time between giving strategic advice to other firms and working on his own new start up idea — "the next big thing," he said. He hopes to retire within five years.
Doron Nevo has no plans to retire anytime soon. His company, KiloLambda, makes specialized optical components for Telecom applications and is still in the R&D stage. It was founded four years ago with $5 million, half of which was provided by Skypoint, in a completely different atmosphere than the euphoria of the late '90s. The company hopes to become profitable in 2007 and doesn't harbour the same grandiose ambitions of some of its predecessors.
"Today, people know that the days of the big bubble are gone and you have to build a profitable company with a firm base," he said. "It's much harder than it used to be."
Even in this new world, Israelis are thriving. Many Israelis are returning home from top U.S. business schools which means management of Israeli companies has improved dramatically.
"Israel has changed totally in the past 10 years from a place where people would look at companies that could only do R&D and come up with a brilliant idea but have a problem taking that into volume manufacturing and distribution, which involves more management capabilities," Nevo says. "I think that has changed."
Israel, like Canada, depends hugely on export markets. But its tech firms sell to a more diverse range of customers — revenues are generated in roughly equal proportions from North America, Europe and the rest of the world. Many of Canada's tech firms, in contrast, rely hugely on the U.S. market.
Having survived the bust and already rebounding strongly, the future looks bright for high tech in Israel.
Nevo's office is on the second floor of a glitzy building on the outskirts of Tel Aviv. It is surrounded by other similar buildings that house dozens of startups. The neighbourhood is popularly known as Kiryat Atidim, which translates to "village of the future."
It's an apt affirmation of faith in the country's engineering talent.