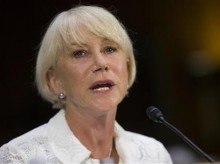 Actress Dame Helen Mirren testifies on Capitol Hill in Washington, during a Senate Judiciary subcommittee hearing on the Holocaust Expropriated Art Recovery Act. (AP Photo/Evan Vucci)
JERUSALEM (AP) — Oscar-winning actress Helen Mirren said Wednesday she was a "believer" in Israel and rejected efforts to boycott it.
Mirren showered Israeli artists with praise and said she opposed both the efforts by pro-Palestinian groups to boycott them and the decision of some international artists to shun Israel.
"I think that art is an incredibly important way of communication," she said at a press event in Jerusalem. "The artists of the country are the people you need to communicate with and make a relationship with and learn from and build upon. So I absolutely don't believe in the boycott, and here I am."
Mirren is in Israel to host the Genesis Prize, an award known as "the Jewish Nobel." The $1 million prize is being awarded to Israeli-American violinist Itzhak Perlman for his accomplishments as a musician, teacher and advocate for the disabled.
Mirren, who is not Jewish, has visited Israel several times, and has been a vocal critic of pro-Palestinian activists who have called for a cultural boycott of Israel. The Boycott, Divestment and Sanctions movement, known as BDS, has enlisted the support of Pink Floyd frontman Roger Waters and has persuaded Elvis Costello, Lauren Hill and other performers to call off concerts in Israel.
Mirren, 70, is one of the few actors to have won the so-called Triple Crown — collecting an Oscar, Tony and four Emmy awards over the years. She received her Academy Award for her portrayal of Queen Elizabeth II in the 2006 film "The Queen."
She played the role of a former Mossad agent in "The Debt," a remake of an Israeli film of the same name. And in "Woman in Gold," she played an elderly Jewish refugee who fought the Austrian government for a decade to reclaim an iconic Gustav Klimt painting stolen from her family by the Nazis.
She said her strong connection to Israel dates back to 1967, when she volunteered on a kibbutz, or collective farm, with her Jewish boyfriend at the time. She fondly recalled picking grapes and doing kitchen duty.
"I am a believer in Israel … I think this is an extraordinary country filled with very, very extraordinary people," she said. "It's just a lucky, for me, accident in my life that I have had this privilege."
Mirren shied away from more political questions, but she said she had already voted by proxy in favor of Britain remaining in the European Union. She will be in Israel when the Brexit vote is held on Thursday.
Prime Minister Benjamin Netanyahu will present Perlman the award at Thursday night's ceremony in Jerusalem.
The prize was inaugurated in 2014 and is run in a partnership between the Israeli prime minister's office, the private Genesis Prize Foundation and the Jewish Agency, a nonprofit group with ties to the Israeli government. It is funded by a $100 million endowment set up by the foundation. Former New York City Mayor Michael Bloomberg was the recipient of the first prize, and actor Michael Douglas was last year's winner. Comedian Jay Leno hosted the first two ceremonies.