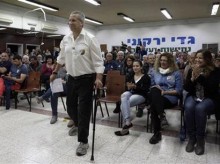 Gadi Yarkoni stands during a meeting in the southern Israeli Kibbutz of Nirim (AP Photo/Tsafrir Abayov)
NIRIM, Israel (AP) — On the last day of last summer's Israel-Hamas war, Gadi Yarkoni and two of his closest friends were fixing an electricity line next to the cowshed in their kibbutz in southern Israel that had been damaged by rocket fire from neighboring Gaza.
On that Aug. 26, a final cease-fire was about to go into effect and they thought they had weathered the worst of the 50-day war that had driven away most families from their small agricultural community. Just as it was all about to end, a mortar shell landed by Yarkoni, killing both his friends and blowing off both his legs.
Now, a year later, the 48-year-old father of three is walking again, thanks to prosthetics, and was recently elected head of the Eshkol Regional Council where he is helping rebuild Israel's hardest-hit region in the war.
Yarkoni's community, long pummeled by rockets from the Hamas-run territory next door, is battered but buoyant — and is even seeing a surprise surge in population, with 500 new residents in Eshkol alone.
"We are wounded, we are damaged, but we only have two choices: either to fall back or to run forward," Yarkoni told The Associated Press Wednesday from his office near the Gaza border. "I always look at the half glass full and maybe that is how I overcome my obstacles in life."
During the fighting, which began July 8, Israel launched more than 6,000 airstrikes against Gaza, while Hamas fired more than 6,600 rockets and mortars at Israel. The war killed more than 2,200 Palestinians, mostly civilians, according to U.N. figures. Israel counted 73 deaths, including six civilians. All but one of the Israeli civilians were killed in the five regional councils in southern Israel that surround the coastal strip of Gaza.
The Eshkol council got the worst of it, absorbing about a fifth of all Hamas fire in the war. Of the council's 14,000 residents, more than 2,000 are still in psychological care and a quarter of the children have post-traumatic symptoms, according to the local trauma center.
The war also exposed communities straddling the border to a new threat: underground tunnels that popped up close to their homes.
Many residents still swear they hear digging sounds below and the occasional projectile disrupts the quiet that has largely prevailed since the war ended.
For those living just north of Gaza, concerns are amplified as they have a clear view of a new Hamas training site across the border where uniformed militants practice live fire drills.
Last summer, students were robbed of their school vacation because of the fighting and were forced to flee to other parts of the country. On Wednesday, the first day of this year's summer vacation, the sounds of explosions were clearly heard from the neighboring Sinai Peninsula — where the Egyptian military was striking Islamic State-affiliated militants.
"For some people, the war is not yet over," said Merav Ben-Nissim, who heads the Eshkol Trauma Center, adding that before the war, "kids would go sleep with their parents because they were afraid of rockets."
"Now the parents want the kids to sleep with them because they are afraid of terrorists coming out of tunnels," Ben-Nissim said.
But with daily life quietly resuming, Yarkoni said business opportunities have blossomed. "We are in the most beautiful area of the Middle East," he said, smiling. "I don't think it is more dangerous here than in other places in the world and in Israel."
In Nahal Oz, a nearby border kibbutz of some 350 people that was empty a year ago, the pool is full of children splashing in the water. Kindergarteners play in sandboxes under shade of a concrete barricade colorfully painted with animals, flowers and rainbows.
But soldiers still patrol the kibbutz and memories are still fresh of the death of 4-year-old Daniel Tregerman, who was killed by mortar shrapnel while playing near his home.
"What we went through stays with us but it made us stronger," said Yael Raz-Lachyani, a 38-year-old mother of three.
Some of the families who left during the war have not returned. But others have arrived in their place, seeking the communal, rural life they couldn't find in the largely urban central part of the country.
"We were looking for a place to build a home, to build a future for our children and we wanted a good community life," said Tom Oren-Denenberg, 40, who arrived in November with his then-pregnant wife.
He has a "Peace Now" flag outside his temporary caravan home, highlighting the recent surge in what locals call a "new secular Zionism" in contrast to the contentious, largely religion-driven push to expand settlements in the West Bank.
In the latest election, most of the communities closest to Gaza backed a more dovish alternative to Prime Minister Benjamin Netanyahu's ruling Likud party.
"I don't care about the terrorists on the other side, but I do feel bad for the people," Oren-Denenberg said. "They need to have some horizon that they have something to live for."
It's a sentiment echoed by Yarkoni, who flew to Geneva to testify before a United Nations committee investigating the war — an experience he said helped convince him to go into public life.
There he defended Israel's right to defend itself and told the committee about the day he lost his legs. The explosion hurled his body through the air, and he remembers spitting out a tooth when he hit the ground.
He was unconscious and in critical condition for nearly two weeks before learning that his friends Zeev Etzion and Shahar Melamed were dead.
The head of the U.N. commission, Mary McGowan Davis, cited Yarkoni's account as she presented her report, which accused both Israel and Hamas of committing possible war crimes.
Still, Yarkoni says he has no desire for revenge and wants Israel to help the Palestinians recover, too.
"There is a time for war and there is a time for peace — or a time for quiet — and now is the time for quiet," he said. "I am just talking about (Israelis and Palestinians) living beside each other, because if I won't make sure that they have hope, I won't have quiet."