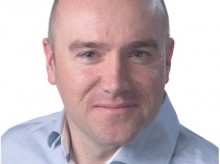 Fran Heeran, Head of Core Networks, Cloud and Network Services
At the core of Cloud and Network Services sits the aptly named Core Networks business unit.
It is responsible for designing, developing and getting to market the key technologies that operate the heart of a modern telecommunications network. And with more than 4,300 employees and a world leading portfolio, it makes up a very significant part of Nokia's CNS business group.
"It's one of those times where the business and portfolio name actually makes perfect sense," quipped Fran Heeran, the head of Core Networks. "The Core is all the software systems and infrastructure that make a modern data and voice network tick, whether mobile or fixed access. It's one of our key competitive advantages here at Nokia to support all access types and technology generations, including, of course, 5G."
For Heeran, running that vast business and portfolio marks the apex of a life spent in software.
Growing up in Ireland during the home computing boom, he discovered the joys of software early, writing his first code when he was 12 and dabbling in kits and assembly language by 14.
After studying computer science at Technological University Dublin, Heeran's first paid job was developing video games for the popular eight and 16-bit home and console platforms. He still wistfully recalls the first time he spotted a video game he had developed for sale at a Dublin computer store.
"The sense of satisfaction of seeing something you had spent so much time and effort creating being reviewed and put out for sale was extremely fulfilling," he said. "That product mentality has stayed with me ever since."
Heeran broadened his software skills while spending several years in London working on a range of emerging industries before returning to Dublin and working for some of Ireland's first globally successful software companies.
He then joined the early-stage Irish startup Valista, where he focused on mobile payment solutions and helped develop one of the world's first mobile e-commerce systems – a wireless application protocol-based shopping experience where, for Valentine's Day, someone could purchase chocolate and flowers on a phone. He spent almost 11 years at Valista in senior leadership roles, including Chief Technology Officer, and travelled extensively to meet customers.
Valista was acquired by AePONA (and eventually Intel) before Heeran made the jump to Alcatel-Lucent in 2011. There he worked on a collaboration with a new India-based telecommunications provider, Reliance Jio, which has since grown to be India's, and one of the world's, largest.
"Before joining Alcatel-Lucent I had reached a point where things were too familiar and I was lacking the challenges to push me forward," he said. "I made the jump from a small to big company, and from Ireland to India, in the span of a week. It was very challenging to go through that much change in your life, but it was one of the best and most rewarding things I ever did."
He also spent a couple of years away from the company, working at Netcracker and on the customer side with Vodafone Group, where he led its cloud transformation strategy and architecture. "It's invaluable to be able to see your business through the lens of the customer," he said.
He returned to Nokia in 2019 and was appointed head of the overall Core Networks business earlier this year.
Back in his native Dublin, the 52-year-old Heeran enjoys movies, a good glass of wine and spending time with his family: his wife, three grown daughters and an aging Jack Russell dog named LB (short for Little Brother, since his daughters had given up hope of having an actual brother!). An avid techie, Heeran still has some fun assembling and playing vintage arcade games.
His Nokia domain includes the two main elements of packet and voice core platforms, plus a subscriber data management function that enjoys a number one ranking in market share.
Heeran said that, even with its stable and well-established reputation, Nokia's Core Networks business still has plenty of potential for growth. This was spawned primarily by the 5G revolution and the emergence of aggressive competition from IT players and hyperscalers such as Amazon and Google.
He said the huge convergence taking place across the traditional telecommunications, IT and cloud industries are driven by the potential of 5G and the new services it is enabling.
"For many years, this industry has been relatively stable, static and very familiar. We are going through a transition now that is going to make things very unfamiliar. For many, this can be a risk but is also a great opportunity if we can take advantage of it," he said.
"Nokia was one of the early movers in embracing what could be viewed as competitive threats, such as supporting Amazon and Google's cloud infrastructure in its network software portfolios. We were among the first to put software on those platforms," he added. "Our customers want choice and flexibility and it's critical for us that we can provide that."
By embracing such openness, he said Nokia was on the verge of becoming the first supplier to support the launch of a full telecom network in public cloud.
"This industry needs to change pretty substantially with the sheer number of providers that are out there. We can be at the forefront of driving really significant change for the first time in a generation," he said. "I like to see things in real use and practical application versus just being theory. That's really what drives me each day."