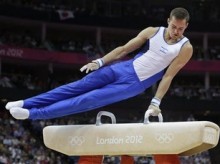 Israel's gymnast Alexander Shatilov performs in London (AP Photo/Julie Jacobson)
JERUSALEM — For a day, at least, more pressing national concerns – the Iranian nuclear threat, the civil war in Syria – were pushed off the front pages of Israel.
Instead, the papers focused on disappointment over what was supposed to be a happy distraction: Israel will not bring home a medal from the London Olympics, its first failure at the Summer Games since 1988.
Among the headlines: "Empty-Handed." "Olympic Letdown." "Ocean of Tears."
"Zvi Warshaviak has to go. Now!" one veteran sports columnist, Arie Meliniak, wrote, referring to the head of the Israeli Olympic Committee. "It's time to hear new voices, bring in new people, go in new directions, try a new way."
Sixty years after Israel first took part in the games, 40 years since the murder of 11 Israeli athletes and coaches in Munich and 20 years since Israel won its first medals, expectations were high for a strong showing in London.
Six to eight athletes were considered medal contenders, in sailing, judo, gymnastics and shooting. Warshaviak predicted at least three would stand on the podium.
But when reigning world champion windsurfer Lee Korsiz dropped from second to sixth place her final race Tuesday, Israel's last legitimate chance for a medal evaporated.
In a security-obsessed country, sports have never been a top priority. Schools and youth clubs often lack proper infrastructure, coaching and funding.
Still, Israel has quietly won medals at each of the past five Olympics, including its first gold, at the 2004 Athens Games. Of Israel's seven medals, three have come in judo, three in sailing and one in canoeing.
The goal this time was for Israel to earn a medal in a new category and to have its first female medalist since Yael Arad became the first and only, winning a silver in judo at the 1992 Barcelona Games.
In London, Israel got off to a rough start.
Arik Zeevi, a 2004 bronze medalist in judo, was knocked out of the games after only 43 seconds, and another judo medal contender, Alice Schlesinger, was eliminated in the second round.
It got worse. Shahar Zubari, a bronze medalist at the 2008 Beijing Olympics, finished 19th in men's windsurfing, and Israeli gymnast Alex Shatilov finished sixth in the floor exercise. Shooter Sergey Richter barely missed the finals.
Tennis doubles partners Jonathan Erlich and Andy Ram nearly saved the nation from its sporting gloom. They upset Roger Federer and his Swiss partner. But they lost a quarterfinal thriller to the eventual champions, American brothers Mike and Bob Bryan.
"We didn't reach our goals, so it is definitely a failure," said Efraim Zinger, secretary-general of the Olympic committee. "But looking at the larger perspective, we have to ask ourselves a real question: What is the place of sports in Israel?"
The government's sports ministry says it has a plan for a $1.5 billion upgrade of the country's sports facilities over the next decade. It said its sports budget has tripled in the past three years to around $32 million.
This year's Olympic budget of $5.6 million was also the highest yet, and covered all the athletes' training, travel and housing. But the ministry is still one of the poorest financed in Israel.
Zinger said Israel must instill a culture of sports in its people from a young age. He said his European colleagues have called Israelis "magicians" for being able to produce top athletes despite the conditions in which they had to train.
Despite the disappointments, Israel managed to post some impressive results, including six athletes who qualified for finals. Swimmer Yakov Toumarkin finished seventh in the 200-meter backstroke.
But for the most part, the country has been disappointed. Israeli lawmaker Isaac Herzog told the visiting foreign minister of Australia, Bob Carr, on Wednesday that when it comes to investing in sports, "we have a lot to learn from you."
Einat Wilf, chairwoman of parliament's education, culture, and sports committee, said the committee will convene to discuss whether "any systemic lessons" can be learned from the failure.
Eran Soroka, writing in the daily newspaper Maariv, did not sound hopeful: "Israel has decided that it doesn't want to be a sporting nation."