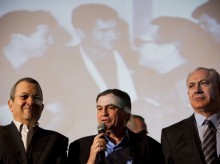 Netanyahu, Barak and Uzi Dayan at an event for Sayeret Matkal veterans (AP Photo/Oded Balilty)
JERUSALEM—When Prime Minister Benjamin Netanyahu had to fill a sensitive Cabinet post recently, he turned to an old army buddy from his days in an elite commando unit.
His choice for minister of civil defense, Avi Dichter, replaced another graduate of the legendary Sayeret Matkal unit. Netanyahu's defense minister and vice premier, as well as Israel's opposition leader, also served there.
It's Israel's most famous and secretive military unit. Among its known exploits are the 1976 rescue of hostages from an Air France plane in Uganda, a mission commanded by Netanyahu's brother, Yonatan, who was killed there.
In building his team at a time of tensions over Iran's nuclear program, Netanyahu appears to be relying heavily—too heavily, some say—on veterans of Sayeret Matkal. Supporters say the unit's prominent role reflects the intelligence, boldness and creativity of its soldiers.
Critics counter that skills honed in the military do not necessarily translate to the civilian arena and that key voices, particularly those of women, are being left out of critical decisions.
"It's a certain fraternity that for many years has managed to place security as the central issue in the country," said Yael Dayan, a former lawmaker and daughter of the late Moshe Dayan, the famous Israeli general and statesman. "They need a war to justify their own existence."
In a country that worships its war heroes, the military has long been a breeding ground for Israeli leaders. The exclusive, tight-knit Sayeret Matkal unit stands out.
Lawmaker Yohanan Plesner, a graduate of the unit who still does reserve duty, said the transition was seamless.
"When you are given an enormous amount of responsibility at a very young age, it gives you the confidence to take on that responsibility at the national level," said Plesner, 40, a rising star in the opposition Kadima Party. "There is no doubt that Israeli society appreciates those people who have risked their lives for the state."
On Tuesday, Netanyahu attended a gathering of his former army mates in memory of a late Druse Arab commander of the unit who oversaw Netanyahu during a secret mission. "You are my brother," Netanyahu said of the late commander, in a statement released by his office.
Israel's daily Yediot Ahronot said the commander saved Netanyahu's life during a clandestine operation in Syria at the end of the 1960s. A spokesman for Netanyahu did not immediately comment on the claim.
Netanyahu's office has declined to comment about the unit.
The military's website identifies Sayeret Matkal unit "the best combat unit" in the Israeli military and "one of the best special forces units in the world."
"It performs a variety of reconnaissance and commando missions, relying on extensive training as well as the most technologically advanced equipment available," said Capt. Eytan Buchman, a military spokesman. He refused to elaborate.
Sayeret Matkal is primarily responsible for intelligence-gathering missions behind enemy lines, so most of its operations are classified. But the unit has also been tasked with counterterrorism and hostage rescue operations, earning it a mythical status with the public.
The 1976 operation in Uganda is among few that have been made public.
In 1972, the commandos, disguised as airline technicians, raided a hijacked Sabena airliner on the ground in Israel. Netanyahu took part in the operation. A photograph of Ehud Barak, now Israel's defense minister, standing on the wing in white overalls as the hostages were disembarking has become part of Israeli lore.
The following year, commandos rowed boats to the Beirut beach and proceeded to kill top leaders of Black September, the Palestinian group that carried out the massacre of 11 members of the Israeli delegation to the 1972 Munich Olympics. The soldiers were dressed as civilians. Shorter soldiers, like Barak, were disguised as women.
The unit is believed to have later carried out similar assassinations and kidnappings of other wanted men, including the 1988 killing of Abu Jihad, a senior figure in the Palestine Liberation Organization, in a naval commando operation on the shores of Tunisia.
Sayeret Matkal has also had its fiascos, notably a 1992 training accident in which five soldiers were killed during a drill reportedly preparing for a possible assassination attempt on Iraqi leader Saddam Hussein.
Candidates go through a rigorous selection process that includes psychological profiling and intense physical challenges. Only a few dozen are chosen each year and their basic training lasts 20 months. They earn their red beret after a grueling 120-kilometer (75-mile) march and then embark on specialized training that includes advanced navigation, weapons training, a sniper's course and camouflage, according to the army website.
Known in Israel simply as "the unit," only a few hundred serve in it at any given time. The prime minister sometimes stops by headquarters for a visit to hear about their exploits.
"A huge part of the brand is its secrecy. No one really knows exactly what they do there," said Ofer Shelah, a military analyst.
Being a member of this prestigious club grants access to high society and an old-boys club that can open doors in the military, the business world and politics. "Israeli politics is based on loyalties, friends promoting friends," Shelah said.
Unit fighters have gone on to become prime ministers, security service bosses, military chiefs, generals, lawmakers and wealthy businessmen.
At a ceremony last week marking Dichter's appointment the minister who would oversee civil defense if there is war with Iran, Barak spoke about their 40-year history together and how they've crossed paths in secret missions.
"I'm convinced you will bring to the job all the experience you have amassed over the years," Barak said.
Shelah countered that career soldiers were often "the least qualified to lead political systems."
"Their military jobs are not built on agreements, on open dialogue, on accepting the opinions of others or considering public opinion. Politics is all about that," he said.
Social psychologist Eyal Efrati, a retired colonel who once headed the military's behavioral science department, said the unit's prominence has more to do with Israeli society than the characteristics of the soldiers.
"We have this yearning for these people to lead us like they lead us in the army," he said. "It is important for us to hold on to this so that we can feel that no matter what happens, there will be someone to protect us."