Featured Work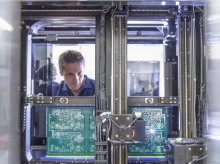 Worker loading circuit boards into testing machine in circuit board factory
It's the buzzword de jour of our rapid technological advancement. But what exactly is the fourth industrial revolution and how is it truly revolutionary?
For starters, your job may disappear,
More
AP Correspondent Aron Heller before departing on the first-ever direct flight from Israel to the United Arab Emirates on Aug. 31, 2020.
In 15 years as a Mideast correspondent for the Associated Press, I received countless e-mails from readers to the thousands of stories I'd written. Most complained, critiqued and even threatened.
More