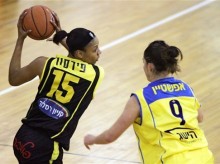 Plenette Pierson, when she played for Elizur Ramle. (Ariel Schalit, AP Photo)
JERUSALEM — The Israeli women's basketball league canceled its entire season after local players went on strike to protest a new rule giving more playing opportunities to foreigners. The decision leaves several top WNBA players out of work.
This is the first time in the league's 54-year history that a whole season has been scrapped. Israel has one of Europe's top professional leagues, and the WNBA said 13 of its players spent their winter in Israel last season.
Most of the league's top players are Americans who come over after the WNBA season. Players who were set to take part this season included Jia Perkins of the San Antonio Silver Stars, Tanisha Wright of the Seattle Storm, Karima Christmas of the Tulsa Shock and Plenette Pierson of the New York Liberty.
The strike centered on the league's decision to reverse a policy requiring teams to have at least two Israeli players on the court at any time — a rule that is common in Europe to help promote local talent. The new regulations would allow teams to play four foreigners at the same time, angering local players who saw their possibilities of earning playing time diminished. A similar rule change took place this offseason in the Israeli men's league as well.
After the Israeli players sat out the first game and refused to return to work, league officials threatened to cancel the rest of the season. They carried out the threat on Sunday.
"Canceling the season is necessary to clarify who decides things in this league," said Dorit Keren-Tzvi, general manager of A.S. Ramat Hasharon. "Anyone who knows anything about women's basketball in Israel knows that we need more foreign players. Most of the Israeli players do not have the talent to play in a top league, but they want the playing time without having to fight for it."
Critics say the new rule undermines the Israeli nature of the league and that without guaranteed playing slots, the local talent pool will have no way of improving.
"Wild competition and wild market are not always everything," retired player Anat Draigor wrote Monday in the Yediot Ahronot newspaper. "There is no reason we should not have affirmative action for local talent, in sport in general and in women's basketball in particular."
The players' association has appealed to the league for further talks to salvage the season. But owners and league management say their decision is final.
Last season's league champion, Elitzur Ramle, captured the European club championship as well. It was led by Israeli point guard Shay Doron, a former Maryland star who later briefly played in the WNBA.