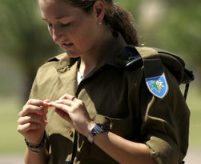 (AP Photo/Ariel Schalit)
TEL AVIV, Israel — Shahar Peer is wearing an olive green military uniform now, far removed from her star turn at the U.S. Open two weeks ago.
Peer, ranked No. 16 in women's tennis, made it to the quarterfinals in New York. But in a country where military service is mandatory, the Israeli player has other duties these days. She wouldn't have it any other way.
"There was no question," she said. "All my friends are going, and I wanted to be a part of it."
Between her globe-trotting schedule, practice sessions, media interviews and sports psychologist appointments, Peer serves as a military administrative secretary.
Peer is a part-time soldier. She spends just three months a year in Israel, and the army has awarded her an "outstanding athlete" status, essentially allowing her to serve a few hours a day at her own convenience. But as a growing number of athletes and entertainers find ways to evade army duties, Peer has become one of Israel's most popular figures.
The 20-year-old player is enjoying a breakout year. She also made the quarterfinals at the Australian Open, the fourth round of the French Open and the third round at Wimbledon — all career bests — and led Israel to the top division of the Fed Cup. She has earned nearly $750,000 in 2007, 13th most on the tour and more than double her previous career earnings.
After her Open run, Peer returned home to celebrate the Jewish New Year with her family, catch up with her boyfriend and put in some time at her army base outside Tel Aviv.
"When I am home, I have to go. I want to do my part," Peer said, adding that the military service has not interfered with her playing career. On a recent morning, she put in a vigorous workout in Tel Aviv, whipping laser forehands and two-handed backhands past her male training partner with emphatic grunts.
While military service has historically been a rite of passage in Israel, an increasing number of youths have figured out ways to avoid it. Some of the main culprits have been Israeli celebrities, including Bar Refaeli, the supermodel girlfriend of Leonardo DiCaprio.
In Israel, Shahar-mania has taken hold, and images of her in uniform only further endear her to an adoring audience. She's sought as a guest on TV and radio shows, and her Grand Slam victories are front-page news. She recently was elected "Israeli Athlete of the Year" for the second straight year.
Many of Israel's past sports standouts — including Anna Smashnova, once ranked No. 15 on the tennis tour — have been immigrants from the former Soviet Union and not fully embraced by many Israelis. Peer, native born and speaking Hebrew-accented English, is as Israeli as they come.
"Israel is a small country with a very limited tradition of sporting success. Shahar Peer is one of our own who has made good," said Ofer Shelah, a prominent Israeli sports commentator. "For Israelis, her success in the world is the success of us all."
The youngest of three children, Peer started playing tennis when she was 6 and entered international competitions before age 10. At 14, she won her first Israeli championship and two weeks later won the Orange Bowl tournament, an unofficial youth world championship.
"Even as a child you could tell she was extremely competitive," said Oded Yaakov, who coached Peer for six years. "She's a winner and a fighter … a real gutsy, clutch player."
Peer turned pro in 2004 and won the Junior Australian Open that year. The following year, at 18, she joined the army and was granted "outstanding athlete" status by the military, allowing her to continue playing.
Maj. Shirley Shapira, Peer's direct commander, said the tennis star has dutifully carried out her clerical tasks.
"It's obvious that Shahar Peer is not going to be sent off to protect the state's borders," she said. "But service in the army is a mission in Israel, and everyone gives as much as they can."
Peer, who will complete her compulsory two-year service in October, especially enjoyed her elementary combat training, where she excelled in rifle marksmanship.
"That was one of the best things in the basic training," she said. "I really liked it. It was special and I learned a lot."
While other grunts her age in Israel are engaged in combat, Peer's toughest battles are confined to the tennis court. She's upset several top 10 players, but has had less success against Venus and Serena Williams, losing all five of her matches against the sisters.
"Against Venus I didn't have a chance," she said, with a smile. "In big tournaments, everyone looks for where are the Williams sisters — that they are not on my side of the draw."
Peer said her nationality has largely not been an issue on the tour. But last year, her doubles partner, Sania Mirza of India, was forced to split. Indian Muslims protested her playing with an Israeli.
"We didn't care about it because we liked each other and we don't think about politics," Peer said. "We like to play together and we are good friends."
Peer has gotten great fan support around the world, particularly from local Jewish populations. Israeli flags dot the stands during her matches in Australia and the U.S. "Hava Nagila," a song of celebration in Hebrew, is often blared over loudspeakers.
"I'm really proud to represent Israel," she said. "When I was in New York, every match it was like I was playing in Israel."