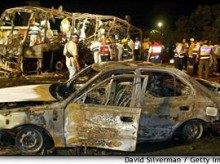 A burned-out car sits next to the skeletal remains of bus 841 Monday after the bus was hit by a car bomb in Karkur Junction, Israel. (Getty Images)
KARKUR JUNCTION, Israel — It's no longer just a job for Israel's bus drivers. For the past two years, they have been thrust onto the front lines as their vehicles become the ideal target for suicide bombers determined to wreak havoc and instill fear across Israeli society. The burden has taken its toll.
"I'm not letting him go back," said Galia, 45, the wife of Haim Avraham, whose bus was blasted to bits in the huge explosion on Monday. Thirteen of his passengers were killed, many burned beyond recognition.
He recalled the moment a routine afternoon pickup at Karkur Junction in northern Israel became another statistic.
"I stopped at the station, and the passengers began to board. I remember this girl had one foot on the ground and one foot on board, and that's when it blew," he said.
Avraham, 50, suffered minor injuries to his arm and his head in the fireball detonated by two suicide bombers.
"I was thrown out the door and landed on the side of the road. I went back in the bus twice to try and save people, but there was nothing I could do. They were burning," he said as he brushed back a tear. "Most of us in the front survived, but those in the back — they didn't have a chance."
ANOTHER DRIVER
The blast, which police say triggered the 100-kilogram explosive, was so strong that it damaged many homes on the outskirts of Karkur, several minutes walk from the scene of the blast.
Yair and Simcha Hillel, a retired couple, were sitting in their living room when the blast literally shook their home.
Their windows smashed, their roof cracked and a fluorescent light fell out of its fixture, landing right next to Yair. "I've fought in all the wars, and I've never heard a blast so strong," he said.
In a state of panic, the couple immediately thought about their children, especially son Yoram, a bus driver for Egged, an Israeli bus company, who in the past had driven the line where the blast occurred, line 841.
"I'm scared to death every time I hear there has been a bombing," Simcha said, "Until I hear from Yoram, I can't breathe. He's out on these buses all day. I worry about him all the time."
Yoram, 34, was safe and sound, just finishing his route in Tel Aviv when the explosion occurred. Even though he found bus debris in his back yard on returning home, he vowed to continue his job as a bus driver.
BUS ATTACKS
Egged is Israel's largest bus company and has borne a heavy brunt of the violence since the Palestinian uprising, which began in September 2000.
To date, one driver has been killed and 20 wounded while in three instances drivers have succeeded in averting disaster by wrestling would-be bombers into submission. In another case, an alert driver discovered a bomb aboard a bus, hidden in an empty watermelon, and evacuated the vehicle.
The other major bus company in Israel, Dan Buses, has lost one driver in a bombing while three others have been wounded in attacks.
Despite the presence of security guards on some buses and a high state of alert, the threat of bombings is ever present. On Monday, the devastation was caused by an explosives-filled car that rammed the Egged bus.
There was nothing that driver Haim Avraham or anybody else could do to prevent the carnage on bus 841.
His wife has had enough. "He had an office job before, and I'll make him go back to it," she said. "I can't go through this again."
But Avraham hopes to get back to driving his line. "What can you do? All the drivers are scared, but they go on. We don't have a choice."