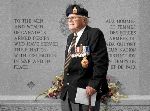 Bob Metcalfe
Bob Metcalfe died Wednesday doing his life's work: volunteering and serving those less capable. He collapsed at a meeting of Sage, the Kiwanis-backed service club for seniors and an organization the former Rotarian joined five years ago.
The Second World War veteran's legacy will also live on with each of us. He's the tall soldier with a beret depicted on the back right side of the Canadian $10 bill, under the title "in service of peace."
Robert William Metcalfe was born in Yorkshire, England, and, with war looming, graduated from Sandhurst military school and joined the famous Yorkshire regiment, the Green Howards.
His pride in the regiment that had served the Crown since 1688 was hurt about two months ago, after military reorganization in Britain saw the regiment blended with others, and the proud name disappear.
He was 80 when he got around to tapping his encyclopedic memory and putting his personal war into a book, No Time for Dreams: A Soldier's Six-Year Journey Through World War Two.
He was among the 400,000 members of the British Expeditionary Force who faced the new German approach to warfare, the Blitzkrieg. He was within sight of the Canadian First World War memorial at Vimy Ridge when the retreat started.
Later, when he became a Canadian citizen, he liked to joke that he was the last Canadian to fight at Vimy Ridge, even though he was only three years old at the time of that famous battle.
His other fights were numerous. He was wounded during the dash to the beaches of Dunkirk and was in a crowded ambulance as it took fire from a heavy machine-gun. He considered it one of those little miracles of war that several heavy bullets passed through the crowd without hitting anybody.
He survived the evacuation at Dunkirk, recovered from his wounds and went on to see action in North Africa, Sicily and Italy, where he and his wife met and married.
Lieut. Helen Porter was a physical therapist with a Canadian hospital team. He delighted in calling himself a war bride (groom).
Mr. Metcalfe was chased by the Bizmark, went around the Cape of Good Hope and ended up in the Middle East, serving in Operation Desert Fox under the command of Gen. Bernard Law Montgomery. However, he also developed a great respect and appreciation for the German General Irwin Rommel. Later in life, he even corresponded with the general's son, Manfred Rommel, the mayor of Stuttgart. The younger Rommel shared his own Second World War experiences with Mr. Metcalfe and thanked the Canadian for his insightful book about the war.
As the war ended, Mr. Metcalfe, now a major, was attached to the U.S. army in France. The Americans, he recalled, had plenty of wine and beer, but no hard liquor. With delight, Mr. Metcalfe would recall that he had booze, and it may have been a stretch, but, he said: "You could buy a Jeep for a bottle of Scotch."
After the war, the couple settled in the Chatham, Ont., area and raised two daughters, Sharon and Sue.
He sold steel and hardware but, still driven by a compulsion to serve, became reeve of Wallaceburg and a county warden. They moved to Ottawa in 1985 to be near family. He quickly became involved in service work and a member of area Canadian Legions. He and his wife volunteered as veterans willing to share their knowledge with schools.
"He was just an amazing person," said his daughter, Sue Metcalfe, who eulogized her father at the funeral. "He was as sharp as a tack to the end."
His book was declared a classic of its type by fellow veterans Douglas Fisher, a national columnist, and Cliff Chadderton, chairman of the National Council of Veterans Associations.
Ms. Metcalfe said her father was an interesting person to be around, with great knowledge, a curiosity about people and an incredible sense of humour. She praised him for his quiet strength, his ethics and his high standards for civility and kindness.
"He lived life with few regrets," she said. "He taught us what it really meant to be a serviceman, in every sense of the word."
Because he served with a British regiment, Mr. Metcalfe didn't technically qualify for a spot in a Canadian war cemetery. But, because he was the spouse of a Canadian veteran, he was buried Saturday in a quiet family ceremony in the Canadian War Graves section at Beechwood Cemetery. He was 90.