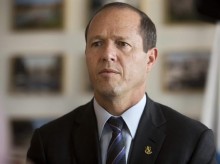 Jerusalem Mayor Nir Barkat in an interview with The Associated Press. (AP Photo/Sebastian Scheiner)
JERUSALEM – Jerusalem's mayor presides over perhaps the most complicated city in the world: deeply divided between Arab and Jew, religious and secular, rich and poor, and claimed as a capital by both Israelis and Palestinians.
But Nir Barkat, a successful former high-tech entrepreneur and venture capitalist, told The Associated Press that Jerusalem is thriving like never before and in a re-election pledge insists the key to success is keeping its various fragments united.
With peace negotiators discussing the potential future partition of Jerusalem, Barkat emphatically says the city can't be split and urges negotiators meeting in Jerusalem Tuesday to take any such talk off the table.
"It will never function, it will never work. It is a bad deal," he said during an interview in his office at City Hall. "Doing a bad deal is worse than no deal."
Jerusalem is Israel's largest city and its 800,000 residents are split almost evenly among secular and modern Orthodox residents, Muslim Palestinians and ultra-Orthodox Jews. The Arab population lives almost entirely in east Jerusalem, the sector captured by Israel in 1967 and claimed by the Palestinians as their capital.
Elected in 2008, in a victory seen as a backlash against ultra-Orthodox control of the city, Barkat claims to have stopped the exodus of tens of thousands of secular Jerusalemites, invigorated cultural life in the city and improved quality of life for the city's Arabs. But it remains one of the poorest cities in Israel.
Barkat, who is seeking a second five-year term in October, laid out his goal of maintaining Jerusalem as "the center of the world" — a city that is open and accessible to all.
Drawing on the city's ancient history, Barkat said Jerusalem has always been at its finest when it allowed all those who entered its gates to feel equality and a sense of belonging. He said Jerusalem had to go "back to its roots" and rediscover what made it so special.
"Jerusalem of 3,000 years ago was not divided into tribes. All people that came to worship … at the Temple felt that Jerusalem belonged to them as much as it belongs to everyone else and that feeling created a very special atmosphere of belonging," he said. "There is only one way this city can function — it is a united city that all residents and visitors are treated honestly and equally. It is the only model."
Before turning to politics, Barkat was the first chairman of Checkpoint Software, a leading maker of computer security technology, and an Israeli business magazine recently ranked him as the country's richest politician with an estimated net worth of roughly $125 million. Barkat earns a symbolic salary of one shekel a year and drives his own car to work.
Israel captured east Jerusalem, home to key Jewish, Muslim and Christian holy sites, from Jordan in the 1967 Mideast war and annexed the area in a move that has not been recognized internationally. The fate of Jerusalem remains at the heart of the Israeli-Palestinian conflict. While past peace talks have discussed partition options, Israel's current prime minister, Benjamin Netanyahu, says that is out of the question.
The Israeli government is responsible for peace talks with the Palestinians, and Jerusalem's mayor has no official say in the city's political future. But as chief executive he can affect the delicate balance between Arab and Jew, especially in regards to daily life issues like building permits, construction, education and public services.
Barkat, 53, said his administration has treated the city's Arab residents "honestly and equally" by building roads and classrooms, increasing budgets and investments in their neighbourhoods and expediting building permits.
Critics, including human rights groups, say public services in Arab neighbourhoods continue to lag far behind Jewish areas.
In a report coinciding with the opening of the school year this week, two Israeli human rights groups accused the city of discrimination and neglect toward the schools in east Jerusalem. It cited a dire shortage of classrooms, a double-digit dropout rate and disparities in key resources between Jewish and Arab schools. Altogether, some 36 per cent of east Jerusalem Arabs fail to complete 12 years of schooling, the report said.
"Deep disparities in the educational system are not accidental but rather the product of policymaking that results in a lack of funding, resources and efforts to ameliorate the current situation," said the report, issued by The Association for Civil Rights in Israel and Ir Amim, a non-profit group that promotes equality between Arabs and Jews in Jerusalem.
Oshrat Maimon, Ir Amim's policy director, said it was "regrettable" that the mayoral candidates have paid little attention to closing these gaps. "While parents in west Jerusalem are excited about their children's first day in school, a few meters away parents in east Jerusalem don't know if there will even be a place in school for their children. This gap, which continues to increase every year, requires an urgent response from elected officials," she said.
Barkat rejects such criticism, and claimed Arabs also oppose dividing the city, a claim that is open to debate. A 2010 poll of east Jerusalem Arabs found that 35 per cent of respondents said they would prefer to become citizens of Israel if a Palestinian state was established, compared to 30 per cent who would prefer Palestinian citizenship and 35 per cent who didn't know.
The poll, which had a margin of error of three percentage points, found respondents were most satisfied with quality of life issues in the city, including education, utilities and health care. At the same time, they complained of discrimination and difficulty in obtaining building permits. The main attraction to citizenship had more to do with their quality of life, such as ease of travel and access to health care, than any affinity for Israel.
Sponsored by the Council on Foreign Relations, Pechter Polls surveyed 1,039 people.
Barkat rejected accusations that Jews received preferential treatment over Arabs in housing construction in east Jerusalem.
Equally challenging has been reviving the city's secular life without alienating the powerful ultra-Orthodox. Barkat has increased the city's culture budget to allow high-profile events like concerts, street festivals, a marathon and other international sporting events.
He faces a stiff election challenge from Moshe Leon, a former top government official who only recently moved to the city but enjoys the backing of the ultra-Orthodox parties and other political insiders.
The ultra-religious have used their large numbers and political muscle over the years to shape the city: It grinds to a halt on the Jewish sabbath, with businesses closed, no public transportation and few options for entertainment.
Attempts to change the status quo have prompted violent backlashes, with the ultra-Orthodox blocking roads, clashing with police or sending tens of thousands of activists into the streets.
While Barkat has led a push to open more places of entertainment on the sabbath, including a refurbished train station that has turned into a popular outdoor mall, the growing religious influence, coupled with a high cost of living, has pushed many secular residents to flee and entrenched a domestic stigma that Jerusalem is a great place to visit, but not to live.
Israel Kimchi, a Jerusalem expert at the Jerusalem Center for Israel Studies, said about 7,000 people still leave the city annually, mostly educated young couples — a figure the municipality disputes.
Still, Kimchi gave Barkat high marks for his good will and minimizing the scope of ultra-Orthodox influence. "The municipality can't cope with it all," he said. "I'm not sure the municipality can handle such a large and complex city."