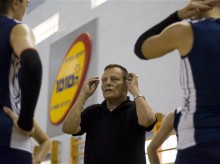 Volleyball coach Arie Selinger directs his team. (AP Photo/Ariel Schalit)
NETANYA, Israel (AP) _ Hall of Fame volleyball coach Arie Selinger is back in Israel and on a mission.
After a 40-year international career, he's fulfilling a vow to build a top-notch volleyball program in the chaotic country he fled to after the Holocaust.
Under his strict tutelage and grueling training regimen, Israel's women have qualified for next month's European Volleyball Championship _ the first time since 1971 _ and have their sights set on future Olympics.
Selinger has led American women and Dutch men to Olympic medals, but the 74-year-old says his homecoming marks the most personally meaningful chapter of his professional life.
It also brings full circle the unlikely life story of a boy who survived the Holocaust _ befriending Anne Frank during the nearly two years he spent in a concentration camp _ and immigrated alone to Israel as a weak 8-year-old. There, against the advice of some, he pursued sports as his salvation.
"From the beginning I realized, something in me told me, that for me to be healthy I had to be on the move," he said. "The nurses said, 'You cannot play soccer, you cannot play basketball, you have to take care of yourself.' And I said, 'No way' and I kept running."
He's been running ever since, first as a combat officer in the Israeli military, then as a volleyball national team player and afterward as a coach who "helped change the face of volleyball in the United States," according to his Hall of Fame induction.
In the 1960s, he introduced quicker offensive schemes that included one-sets, crossing plays and combination attacks. After earning a doctorate in physical education at the University of Illinois, he became coach of the U.S. women's team and led it to the 1984 Olympics in Los Angeles, where it won silver to become the first American team to medal in Olympic volleyball competition.
He later guided the Dutch men to silver at the 1992 Barcelona Games before pioneering women's volleyball in Japan. His son, Avital, coaches the Dutch women's national team.
Selinger says he has returned home to "change the culture of sports in Israel." Like many aspects of life in Israel, Olympic sports often are neglected because of a focus on security and other existential threats. Coaches and players often complain that teams are underfinanced, mismanaged and lack the single-minded focus needed to compete at the world's highest level.
"The day I said goodbye in Israel, I said, 'One day I will come back and clean it up and do it the right way,'" he said. "Because even then, back in 1969, I felt that things were not being done right. That there is much more potential here, but that somehow we are missing it."
His program _ dubbed "Project Selinger" _ has secured a sponsor that allows him to pay his players and make sure they have the tools to succeed.
His players describe a punishing regime of a man who demands total commitment. The team plays through pain and he even rations drinking water as part of a philosophy that says athletes strive harder when not all their basic needs are met. When a star player got pregnant, he accused her of letting down the team.
His name, Arie, is Hebrew for lion. During an exhibition match this month against Azerbaijan at Israel's Wingate Institute, he paced the baseline like a lion: arms crossed, back erect, barking out instructions as his players flailed on the floor fighting for each point as if their lives depended on it.
"His charisma is sweeping, and that's what pushes us higher," said Tatjana Frage, the team's 38-year-old captain. "It's a different world with him around here. There is totality in everything that he does. There are no compromises, no concessions, complete dedication."
Selinger says his experience has taught him that the body is tough enough to sustain almost anything and recover naturally.
"I think there is a misconception about how sickness and injuries need to be handled," he said after the match. "The biggest mistake we are doing is resting. Rest kills us. The minute we are in motion everything recovers very quickly. … My philosophy is don't sit, just be in action."
It's an approach that served him well as a child struggling to survive the Holocaust, when the Nazis and their collaborators killed some 6 million Jews in Europe.
When he was 5, he was sent with his mother to the Bergen-Belsen concentration camp in Germany. It was there he remembers taking cover during bombing raids with a dark-haired girl with a brown coat _ whose poignant diary would later become world famous.
"The only thing I remember about her is that she was by herself," he said of Anne Frank. "I remember that toward the end of the war the Americans were coming in very close to the crematoriums, and they started coming down and started shooting. My mother was sick and she would say 'Take Anichka (Anne) and run.'"
Anne Frank died of typhus, but Selinger survived and was one of the first kids to immigrate to Israel _ while his mother stayed behind to search for her husband, who apparently died at Auschwitz.
Selinger exhibited a strong will early in his life, and rejects the notion that it was his difficult childhood that made him tough and influenced his ways.
"I never thought I was going to die. I always thought that 'I will make it, somehow I will make it,'" he said. "… It doesn't mean that I wasn't afraid, I was afraid. I was afraid when I saw the Germans coming at me and I ran away, but I never thought they were going to kill me. The thought of death never crossed my mind."
After the war, he focused on health and fitness, using sports to build up his strength. It's a lesson he keeps in mind when pushing young athletes beyond their limits.
At 74, he's still in excellent shape. So are his players, whom he pushes harder than they deemed possible.
"People don't realize the ability and incredible tolerance that kids have, and they think that we are strong and they are weak. It is the opposite _ they are strong and we are weak," Selinger said.