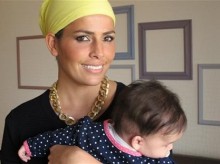 Miss World Linor Abargil poses with her four-month-old daughter at her home in Netanya. (AP Photo/Aron Heller)
NETANYA, Israel (AP) — When 18-year-old Israeli beauty queen Linor Abargil was crowned Miss World in 1998, the tears streaming down her cheeks appeared to be the overwhelming joy of a young woman fulfilling a childhood dream. Few knew the painful truth behind them — that just six weeks earlier she had been raped at knifepoint.
Unlike most victims of sexual assault, Abargil refused to keep quiet. She pressed charges, spoke out publicly and testified at a trial that sent her attacker to prison for 16 years. Her ordeal inspired other Israeli women to break their own silence and in the process, she became a national symbol who helped destigmatize rape in the country.
Today, the 34-year-old mother of three's crusade against sexual violence is going global, thanks to an international speaking tour and new documentary, "Brave Miss World," in which she details her ordeal and speaks to dozens of other victims, many of whom shared their tales of terror for the first time.
"If you go through something very bad or very hard, the only pill you can take is to tell, to take it out of your system. Because if you don't, it is like a tumor — it becomes bigger and bigger until it kills you," she told The Associated Press this week, shortly after returning from a visit to India. "I feel that I have this privilege to really help other women to open up."
In "Brave Miss World," director Cecilia Peck chronicles Abargil's journey from teenage rape victim to outspoken lawyer and activist and finally to wife and mother who discovered a newfound comfort in her Jewish faith. Interviews with her parents, her husband and even a former boyfriend shed light on how the rape altered her life but also how her strength helped transform her into an unlikely ambassador.
In the documentary, shot over four years, Abargil listens to the stories of rape victims ranging from American college students to young South African girls to Hollywood celebrities like Fran Drescher and Joan Collins — who disclosed for the first time that she married the man who raped her.
"There is something about Linor that gives credibility to rape survivors. They know that they will be believed, it helps relieve that burden of shame," said Peck, whose previous work includes "Shut Up and Sing," a documentary about the U.S. country singers the Dixie Chicks.
Peck, daughter of legendary actor Gregory Peck, said the film's name was a subtle allusion to Aldous Huxley's famous novel "Brave New World," in which the government tried to control even citizens' sex lives.
According to the Rape, Abuse and Incest National Network, America's largest anti-sexual violence organization, one out of six American women has been the victim of rape or an attempted rape, with 60 percent of them unreported to police. The figures are similar in Israel and other Western nations and far higher in the developing world.
Peck said the film's website has become a focal point for victims to speak out. More than 300,000 people already have visited the site, with many writing about the abuse they experienced. Hundreds of emails arrive each day, she said.
Abargil said she was drawn to the project since she was not the type of person to just seek "justice for myself and then walk away." Rather, she felt that as a public figure she had a responsibility to break the taboo around rape and give other women the courage to talk about it.
It was not without a personal toll.
"It was one of the hardest things I ever did in my life," she said. "A lot of the time I didn't have anything to say to the things that I heard."
Abargil's own story was just as horrific. She was in Milan, Italy, in October 1998 auditioning for modeling jobs when she asked Uri Shlomo Nur, an Egyptian-born Israeli who ran a travel agency there, to arrange a flight back to Israel.
Nur told her there were no flights from Milan to Israel and offered to drive her to Rome where she could catch a plane. During the ride, Nur pulled the car into a thicket, stabbed her, strangled her and raped her at knifepoint. She managed to escape and call her mother.
"Linor said to me: 'He tricked me, he raped me, he tried to kill me,'" her mother tearfully recalled in the film.
She told her daughter not to shower, to report the rape to police and give DNA evidence at a hospital. That helped convict Nur in Israel. Still in prison, he is slated for release this summer.
Throughout the trial, Abargil refused to have her name concealed or her face or voice distorted in media coverage, insisting that there was no reason to be ashamed.
Miriam Schler, the director of the Tel Aviv rape crisis center, said Abargil gave rape a "human face" and her trial spurred a big boost in the number of women who sought help.
"She gives women legitimacy to come forward, to say 'I am not crazy, it's not my fault, if people believe her maybe someone will believe me,'" Schler said.
Abargil went on to work as a model and an actress before becoming a criminal lawyer. Newly religious, the bikinis and low-cut gowns of her past have been replaced by more modest outfits and a head covering befit of an Orthodox Jewish woman.
She said the "stupid crown" she won for Miss World would have meant nothing to her were it not for the platform it provided to speak out.
"I think I have a lot of very good things to say to women around the world," she said, as her four-month-old daughter cooed in the background. "I realized it (the rape) doesn't define me, it can't define me."