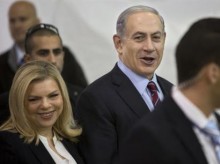 Israeli Prime Minister Benjamin Netanyahu and his wife Sara arrive for the Likud party primary elections in Jerusalem. (AP Photo/Oded Balilty)
JERUSALEM (AP) — Already under fire in Israel and abroad, Prime Minister Benjamin Netanyahu is now dealing with headaches on the home front following a series of scandals involving his wife.
A trio of cases, including a police investigation into possible improper spending by Sara Netanyahu, have embarrassed the prime minister and deepened an unflattering reputation for lavish living out of touch with the average Israeli.
Mrs. Netanyahu has long been a lightning rod of controversy, from her supposed interference in state affairs and influence over her husband, to allegedly abusive treatment of staff, to even her wardrobe choices. Supporters say the criticism, which dates back to the 1990s, is unfair and malicious.
First, Israel's official government watchdog released a report detailing the couple's travel expenses and raising a "fear of criminality" over alleged double-billing. The report also accused the Netanyahu family of using bonus points accrued by the state for private use.
Next, the police recommended indicting her over inflated household spending and misuse of state funds — including for private meals and for a caregiver for her ailing father.
Finally, a former employee of the prime minister's residence was awarded some $25,000 in damages for Mrs. Netanyahu's behavior, which included forcing him back to work late at night because he had failed to say a proper goodnight when he left.
"The evidence in the case proves beyond any doubt that Mrs. Netanyahu's attitude toward the employees in the residence, including the plaintiff, was intolerable, humiliating and reached the level of abusive employment," the judge wrote in her verdict.
Netanyahu's defenders see petty persecution aiming to get at the prime minister through his wife and achieve what successive elections have failed to do — remove him from office.
"All of these affairs emit a strong scent of persecuting Netanyahu and trying to replace the leadership," the family's spokesman, Nir Hefetz, told Israel's Army Radio station. "She is pure as snow. No one is more honest than Mrs. Netanyahu."
The scandals come at a delicate moment for the hard-line prime minister, who is at loggerheads with much of the international community and key domestic elites such as the security establishment. He has come under heavy criticism for replacing his widely respected defense minister with one of the country's most polarizing politicians, Avigdor Lieberman. And this week, France is hosting an international conference expected to put pressure on Netanyahu to make concessions to the Palestinians.
For now, none of the scandals seem to threaten Netanyahu's rule. They mostly have been an embarrassment and served as more fodder for those who charge that power has corrupted the couple. Netanyahu is now in a fourth term as prime minister, holding the job for over 10 years in all.
"The fact of the matter is that once and again he's winning elections in spite of" the scandals, said Avraham Diskin, a political scientist at Israel's Hebrew University.
Netanyahu has managed to avoid the legal troubles that forced his predecessor Ehud Olmert from office and to jail in a corruption case.
But the hits keep on coming. The Movement for Freedom of Information, an anti-corruption advocacy group, recently slammed the Netanyahus for not releasing receipts for their residence's expenses despite a court order to do so.
In February, another former employee won a case alleging Mrs. Netanyahu subjected him to abusive language and insults. Last year, the state comptroller detailed alleged excessive spending at Netanyahu residences, citing large sums of public money spent on food, furniture, cleaning and gardening at Netanyahu's official residence in Jerusalem and his private home in the exclusive coastal town of Caesarea.
Over the years, reports have also been released about the high cost of the Netanyahus' catering, housekeeping, furniture, clothing and makeup. In one case, the premier was chided for spending $127,000 in public funds for a special sleeping cabin on a flight to London. Even their costly purchases of scented candles and pistachio-flavored ice cream have been derided.
Mrs. Netanyahu has also been accused of cashing in on thousands of dollars of recycled empty bottles from public events, and of other transgressions such as throwing a vase of flowers on the floor in anger and waking up an employee in the middle of the night to make a bowl of soup.
"(It's) a world in which it isn't the state that has a leader, but a leader who has a state," wrote Sima Kadmon, a columnist for the Yediot Ahronot daily. "And we have been paying heftily for that sense of endless entitlement."
Critics say there are other stories, but that people are afraid to talk because of the family's litigious history.
The couple is currently suing a reporter over a Facebook post they say falsely insinuated Mrs. Netanyahu recently kicked her husband out of their car on a busy highway after a heated argument. Netanyahu also has pointedly kept the position of communications minister — a job that regulates and influences the media industry — for himself.
"Every Israeli journalist has at least one story about Sara Netanyahu. Lots of stories, but no reporting," Yossi Klein wrote in Haaretz. "Courage is needed in order to write against someone who can hurt you, and Sara Netanyahu has such ability."