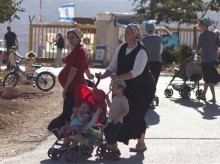 West Bank settlers (AP Photo/Sebastian Scheiner)
JERUSALEM — At first glance, a proposed new bill asking Israel's parliament to extend Israeli labor law to the West Bank and protect women against unlawful dismissal seems innocuous enough.
But critics say that under the guise of woman's rights, the bill's true intent is to further entrench Israeli control over occupied territory the Palestinians seek for their future state.
The debate sheds light on the complex and distinct legal system Israel has cultivated during its 46-year control of the West Bank. Since Israel has never annexed the territory, it technically remains under military rule, creating a bewildering legal reality.
For the 340,000 Jewish settlers in the West Bank, most of Israel's criminal and civilian laws apply. They vote in Israeli elections, enlist for compulsory military service, pay their taxes to the state and get speeding tickets from Israeli police.
But these core laws are applied on a personal rather than a geographic basis, meaning they apply to Israelis because of their citizenship and regardless of their location.
To get around accusations of de facto annexation, Israel relies heavily on military decrees, rather than parliament, to enforce laws on settlers geographically. A third party is Israel's Supreme Court, which steps in when loopholes in this patchwork arrangement emerge.
Palestinians, meanwhile, are often subject to a different set of laws, adding to the confusion — and often inequality.
Orit Strock, a lawmaker from the pro-settler Jewish Home party and a settler herself, said she proposed the latest legislation after learning of female settlers who she said had been unfairly fired from their jobs. She insists she has no other motive.
"So long as people live here, they need to live a normal life," she told The Associated Press. "It is unconceivable that people who pay taxes and serve in the military will be devoid of rights."
Israeli Prime Minister Benjamin Netanyahu has voiced support for the new bill, saying all Israeli women must "receive equal rights."
But critics say the legislation would change the rules in the West Bank.
A parliamentary vote in favor of the bill could be construed as another step by Israel toward de facto annexation, which is particularly problematic at a time when the country is in peace talks with the Palestinians over the future status of the territory.
A Cabinet vote on the bill has been put off indefinitely after dovish government minister Yaakov Peri objected to it. He said protecting women's rights is important, but that the bill would be a sign of bad faith to the Palestinians.
Legal experts say settlers already enjoy the same rights as other Israelis by virtue of their citizenship, calling Strock's legislation a political stunt. Her party opposes the creation of a Palestinian state alongside Israel, the idea underlying the current negotiations.
The Palestinians want a state in the West Bank, Gaza and east Jerusalem, territories Israel captured in the 1967 Mideast war. In that war, Israel also captured the Golan Heights from Syria.
Israel has annexed east Jerusalem and the Golan Heights, steps not recognized by the international community. Israelis living in these areas, as well as Arab residents, are subject to Israeli laws and privileges. Israel withdrew from Gaza in 2005.
The Cabinet has asked the attorney general to look into the creation of a military decree on the labor rights of women in the settlements by next month. The military decrees allow Israel to extend its laws to the settlements without the political ramifications.
"The West Bank is under military occupation and therefore it is governed by international law. Under international law the occupier does not have the right to apply its internal laws on the occupied places," said Emmanuel Gross, an expert on military law at Haifa University.
"Therefore, if Israel decides to apply one of its internal laws in those places, it violates its obligation under international law and this act might be declared as void by the international community, even if it is a good law that protects women's rights," he said.
Gross, a former military judge, said "the only way" that Israel could extend this law without running afoul of the international community would be through military decree. He said the "vast bulk" of laws in the West Bank are the result of military decisions.
The Association for Civil Rights in Israel, a liberal organization that typically champions women's rights, said Strock's bill is "another brick in a discriminatory and distorted justice system."
The group said Israel's Supreme Court ruled six years ago that Israelis and Palestinians working in settlements should be protected by Israeli labor laws. It says that labor courts already accept cases from Jewish settlers against their employers on the grounds that both sides are Israeli citizens.
"Israeli labor laws are already applied de facto on all employees in the settlements. So there is nothing in the bill of lawmaker Strock that improves the situation of women employed by Israeli employers," said Tamar Feldman, an attorney for the group.
Shoham Etrogit, a 28-year-old settler mother of four, disagreed.
She said she was fired from her job as a kindergarten teacher after returning from maternity leave. When she appealed to government agencies, she was told that Israel's labor laws don't apply to her.
"It was very hurtful. It's just not fair," she said. "It is completely irresponsible to tell someone 'we don't deal with you.'"
Still, she said her employer allowed her to return to work when she threatened to go to court.
Strock, who proposed the legislation after hearing of Etrogit's case, insisted her bill would also protect Palestinian women who work in settlements. She said the measure's opponents were merely trying to delegitimize the settlers.
"When we serve in the military, they don't call it annexation. When we pay our taxes, they don't call it annexation. So why when we demand our rights do they call it annexation?" she asked.