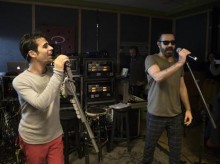 Iranian Shahin Najafi, right, and Israeli Aviv Geffen singers rehearse in Tel Aviv, Israel. (AP Photo/Dan Balilty)
TEL AVIV, Israel (AP) — Israeli rocker Aviv Geffen broke into "The Hope Song," a signature hit he wrote after the assassination of Prime Minister Yitzhak Rabin that is often referred to as the Israeli version of John Lennon's "Imagine."
But his peace anthem took on new meaning when his on-stage partner sang along in Farsi — the language of Israel's archenemy Iran.
In a rare collaboration, Geffen has teamed up with Iranian dissident musician Shahin Najafi in what they describe as an effort to prove that despite bitter enmity between their countries, ordinary people can find common ground. As they performed the rare Hebrew-Farsi fusion Thursday night, the standing-room-only audience of 6,000 gave a rousing applause.
"I think it is a great opportunity to show the world that Iran and Israel can stand together on the same stage and respect each other," said Geffen, 43. "People can talk, people can make music together and it's all fine. We've got no problem at all."
In the early years after its founding in 1948, Israel had close ties to Iran and the Persian country was home to a thriving Jewish community. But following the Islamic Revolution in 1979, they quickly devolved into bitter enemies, with the new Iranian leadership often referring to Israel as "little Satan" and calling for its annihilation.
In recent years, Israel has regarded Iran as its most dangerous adversary because of its suspect nuclear program, its development of long-range missiles and continued support for hostile militant groups along its borders — particularly Lebanese Hezbollah guerrillas and the Palestinian Hamas, which rules the Gaza Strip.
Meeting with Israelis, let alone visiting their country, is considered an offense in Iran that could have severe repercussions.
"I am very pleased to break that taboo. I do it in the name of art," Najafi, 36, said through a translator. "What art does is to get rid of the gaps and differences."
Najafi is no stranger to controversy. He was forced to flee the Islamic Republic over a decade ago because of his activism and was later issued a death sentence for a song about a Shiite cleric that was deemed blasphemous. Now based in Germany, he still has a strong following among those opposed to the regime in Iran.
In Israel, Geffen became known as the rebellious voice of a younger generation in the early 1990s, when he would appear on stage in makeup, often without a shirt, and challenge his fans by screaming "Do you want a change?"
His songs dealt with charged issues such as suicide, religion, drugs and military service, which is compulsory for Israeli Jews but which he himself skipped. He performed at a peace rally in 1995 shortly before Rabin was assassinated by a religious extremist Jew opposed to his peace efforts, and Geffen's songs came to symbolize that era.
In recent years, he has been a vocal critic of Prime Minister Benjamin Netanyahu, whom he has called a "tyrant" who needs to step down. "If you're a man, you'll resign," Geffen said at one of his concerts.
But he acknowledged that his political activism paled in comparison to Najafi's ordeal.
"I think Shahin is one of the bravest artists I ever met," he said, before placing a hand on Najafi's shoulder and giving him a hug. "He is a friend of mine and I care about him."
Born in Bandar-e Anzali, in the Gilan province in northern Iran, Najafi made a name for himself as an underground musician who took on controversial issues such as sexuality, politics and God. Under threat of persecution, he fled in 2004.
The "fatwa" death sentence against him was issued later after his most controversial song, Naghi, in which he exhorts a Shiite imam to solve some of the problems plaguing Iran. The religious edict still stands, as does a $100,000 bounty on his head.
"Life is in general dangerous and my situation is such that I believe in what I do and I am fighting for what I believe in … and I am ready to die for it," said Najafi, sporting a beard, hair in a bun, dark sunglasses and a tattoo running up his right arm. "I am not representing anyone. I am representing myself and I see as my duty to support freedom, democracy and peace."
Geffen said he heard about Najafi through a German journalist and after a few emotional meetings began working with the Iranian musician and helped arrange his current five-day visit to Israel.
"It was like a miracle to bring him here to Tel Aviv," he said at a rehearsal session a few days before Thursday's concert.
Leili Bazargan, Najafi's 33-year-old U.S.-based manager and fiancee, said that as soon as they landed in Tel Aviv, both felt the people and surroundings reminded them of their native Iran.
As children, they were taught to hate Israel, "and I hate that I had all this hatred in me," she said.
During their concert, the musicians also performed "Good Morning Iran," a song Geffen wrote about the fear of religion creeping into Israeli politics and which features images of ultra-Orthodox Jews in its clip.
Najafi, who learned to sing the chorus in Hebrew, worked off a translation of the lyrics to create the Farsi segments of the joint effort.
Addressing the audience afterward in English, Najafi asked all the politicians to "stop dividing people before it's too late." He then thanked Tel Aviv and shared a long embrace with Geffen as the crowd roared in approval.