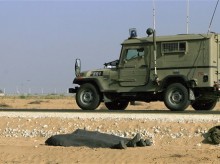 AP Photo
KIBBUTZ KEREM SHALOM, Israel _ Palestinian militants sneaked into Israel underneath a Gaza border crossing Sunday, killed two Israeli soldiers and captured another, raising the threat of an all-out conflict in Gaza just a year after Israel's pullout.
Israel, which sent ground troops into Gaza after the assault, blamed the Hamas-led government and warned that militants and their leaders will be killed if the abducted soldier is harmed. Hamas appealed for restraint.
Moderate Palestinian President Mahmoud Abbas met Prime Minister Ismael Haniyeh of Hamas late Sunday for talks on the fate of the captured Israeli soldier and other matters, said Deputy Prime Minister Nasser Shaer. There was no confirmation of the meeting from Abbas' office.
Shaer had earlier called for the release of the soldier.
Three Palestinian attackers were killed in the battle with Israeli forces at the crossing point where the borders of Israel, Egypt and Gaza converge.
A spokesman for the Gaza militant group believed to be holding the soldier rejected calls from Palestinian leaders for his release.
The assault spiked tensions that already are high because of daily Palestinian rocket barrages from Gaza and bloody Israeli reprisals, against the background of open enmity between Israel and the Palestinian government, headed by the Islamic militant group Hamas.
The group played a leading role in the long-planned attack, and the operation cast a shadow over talks between Hamas and the Abbas' moderate Fatah movement concerning a joint program that includes implicit recognition of Israel, and Hamas' efforts to counter its image as a terrorist group and ease Western sanctions.
After the attack, Israel closed the vital border crossings, the only way people and goods can enter or exit the territory. Previous closings have created widespread hardships.
Hamas, which recently resumed its open involvement in rocket fire on Israel, confirmed its participation in the attack. The small Popular Resistance Committees and a previously unknown group, the Islamic Army, also said they participated.
"This operation is a natural response to the Israeli crimes of killing women and children, and the assassination of two (militant) leaders," Hamas spokesman Sami Abu Zuhri said.
One of those leaders, PRC leader Jamal Abu Samhadana, was killed in an Israeli airstrike two weeks ago, shortly after accepting a senior security position in the Hamas-led government. His killing was part of a rapidly escalating round of rocket barrages and counterstrikes.
The brazen pre-dawn attack was the first ground assault by Palestinian militants since Israel pulled out of Gaza last summer, and the first abduction of an Israeli soldier by Palestinians since 1994.
Palestinians spent months digging an 800-yard tunnel starting in Gaza and stretching 300 yards into Israel. Bursting through before dawn, seven or eight militants attacked the Israeli guard post at the Kerem Shalom crossing point from the rear, "one of the reasons the troops were surprised," military spokesman Capt. Jacob Dallal said.
The attackers hurled grenades into a tank, killing two soldiers, badly wounding another and capturing the fourth.
Most of Israel's attention was focused on the missing soldier, identified as Cpl. Gilad Shalit, 19. Israelis are sensitive about bringing soldiers home and in the past have freed large numbers of captured militants in return for soldiers or their bodies.
However, Israel also has traditionally hesitated to negotiate with militant groups over hostages. Prime Minister Ehud Olmert called his Security Cabinet into special session at sundown Sunday to map out strategy.
The security body authorized Olmert to order military moves against Palestinian militants in Gaza, but only after diplomatic efforts to win Shalit's return, according to a government statement.
Shortly after the attack, Israel sent forces into Gaza, where they uprooted trees and searched for the beginning of the tunnel. The forces were still in Gaza at nightfall.
In 1994, when Cpl. Nachshon Waxman, a 19-year-old Israeli-American, was kidnapped from a hitchhiking post by militants, Israeli forces tracked him to a house in the West Bank and stormed it instead of negotiating. Waxman and two of his captors were killed.
In the hours after Sunday's battle and abduction, Israel issued threats. Olmert blamed Abbas, widely known as Abu Mazen, and the Hamas-led Palestinian government.
"We in Israel hold the Palestinian Authority, headed by Chairman Abu Mazen, and the Palestinian government responsible for this event, with all that implies," Olmert said at the start of Israel's weekly Cabinet meeting.
A statement from Abbas' office deplored the attack and said it threatened to give Israel a "pretext to launch a widespread military operation" against Gaza. Abbas also spoke with several international diplomats, including Secretary of State Condoleezza Rice and British Foreign Secretary Margaret Beckett, said aide Nabil Abu Rdeneh.
Israeli Defense Minister Amir Peretz issued a direct threat against the militants holding Shalit, warning that "anyone who causes the soldier to be harmed should know that the soldier's blood is on his head."
"We intend to respond to the incident this morning in a way in which all involved … understand that the price will be painful," Peretz said at the Defense Ministry in Tel Aviv.
Government spokesman Ghazi Hamad of Hamas said he knew of the abduction only from news reports. In a rare gesture, he addressed Israelis in Hebrew, learned while in an Israeli prison.
Speaking in the West Bank city of Ramallah, Shaer of Hamas called for the soldier's release.
"We care about the life of the soldier and we call upon the kidnappers to guarantee his life and to release him," Shaer said.
Hamas TV ran a statement by Abu Musanna, a spokesman for Islamic Army, a PRC offshoot, rejecting the appeals. He said the group's demands in exchange for the soldier would be "a prize for our people."
Reporters and photographers swarmed into Mitzpeh Hila, a tiny village in northern Israel where the soldier's family lives. His parents did not talk to reporters, but Maj. Gen. Gen. Elazar Stern, commander of the army's manpower branch, said he told them that, despite reports of Shalit being wounded, he was still able to walk.
"Gilad went on his feet," Stern said.
Channel 10 TV said the soldier's blood-spattered footprints were found leading into Gaza.
A neighbor, Ilana Levy-Zrihan, said Shalit was quiet and introverted and had been in the army for 11 months.