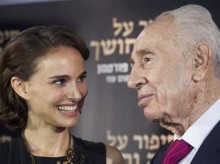 Director and actress Natalie Portman speaks with former Israeli President Shimon Peres before the premiere of her film "A Tale of Love and Darkness." (AP Photo/Dan Balilty)
JERUSALEM (AP) — In her feature film directorial debut, Academy Award winning actress Natalie Portman brings to life the autobiographical novel of celebrated Israeli writer Amos Oz about his youth during the Jewish state's founding years.
But in many ways, the Israeli-born Portman says "A Tale of Love and Darkness" also mirrors the story of her own family. Her paternal grandparents were Jewish immigrants to pre-state Israel and other relatives perished in the Holocaust.
"When I read the book it was the first time I could visualize an entire film in my head. It really just inspired so many images right away," she told The Associated Press on Thursday ahead of the film's premiere in Jerusalem. "It was also so personal. I related to so many of the stories because of family histories that I've grown up with and the nostalgia for a country that maybe is not what you think it is."
Besides directing, the 34-year-old Portman also wrote the screenplay based on Oz's 2002 autobiography and stars in the Hebrew-language feature as Oz's troubled mother, Fania, a cultured and imaginative woman whose dreams can't withstand the grinding everyday reality of Israel's early days.
Portman said that Oz, a perennial candidate for the Nobel Prize in Literature, gave her his blessing and a single piece of guidance.
"His one sort of specification was 'Please make your own piece. Don't just film the book. Make something that is from you. Make your own creation.' So it was very liberating," she said.
Thursday's grand opening at Jerusalem's Cinema City movie complex, with the Israeli cast and former President Shimon Peres in attendance, marked a homecoming of sorts for Portman, who was born in Jerusalem and speaks fluent, albeit accented, Hebrew.
As a child, her family moved to the United States, where she made a memorable feature film debut in 1994's hit-man tale "Leon: The Professional." Additional roles in "Heat" and "Beautiful Girls" catapulted her into the spotlight.
Portman grew up on screen, becoming a worldwide celebrity in her teens and early 20s starring as the tragedy-bound spouse of future evil Jedi master Darth Vader in George Lucas' second "Star Wars" trilogy. She then gracefully moved into adult roles, including "Goya's Ghosts," "The Other Boleyn Girl" and "Closer," which brought her a first Oscar nomination.
In 2010, she won the Academy Award for Best Actress for her starring role as an obsessed, paranoid ballerina in "Black Swan."
Now married and a mother, Portman has returned to her roots. She's been a proud ambassador for Israel, while also speaking out against the hawkish policies of current Prime Minister Benjamin Netanyahu. She said the film's focus on the time of Israel's birth brought the changes the country has gone through since into clearer focus.
"I think it is very natural for everything at the beginning to start out with a very idealistic dream of creating," she said. "Then there is reality and there is the naivety of when you start it and the biases you had when you started that muddied that utopian dream."
Still, she embraces her Israeli heritage.
"I think I have gained more from being from this place," she said. "You are a representative for your people whether you want to be or not. You are asked a lot of things all the time just by virtue of being Israeli and even by virtue of being Jewish."