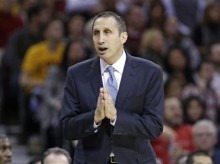 Cleveland Cavaliers head coach David Blatt (AP Photo/Tony Dejak)
TEL AVIV, Israel (AP) — Even casual Israeli basketball fans begin their day with an update on the Cleveland Cavaliers, and the newfound obsession with the NBA franchise has little to do with superstar LeBron James. Rookie head coach David Blatt is one of their own, making his name professionally in Israel and raising a family there.
Nearly all of Cleveland's games are broadcast live on Israeli sports channels, and the national morning radio broadcast almost always delivers the score of the previous night's games. Radio shows feature a daily update segment, and local newspapers have begun to resemble Ohio dailies in their blanket coverage of the drama surrounding Blatt's talented yet underachieving team.
"It's beyond surreal. It feels almost alien-like," said Gil Barak, who broadcasts Cleveland's games for the Sport 5 TV channel. "This is a guy we're used to seeing around here as his everyday self. Now he's got LeBron and directing the most high-profile team in the world."
And as Cleveland fans worry that Blatt isn't using his roster properly, Israelis are proudly sticking behind him. Boston-born Blatt, 55, remains one of the country's most beloved figures, thanks to his winning history as a coach in his adopted homeland and national pride in his making it big time.
"It means a lot from two perspectives: Number one, I can do something for the people in Israel, and number two, I can do something about bringing seven million new fans to the Cavaliers," Blatt said Monday night after a third straight win put the Cavaliers at 22-20. "I've been very fortunate, we had a great deal of success in Israel the last several years, so people are positive about this and about me and I've got Bron and Kevin (Love) and Kyrie (Irving) and they love the NBA over there so it's a natural tie-in, and it's great."
Israelis went crazy in 2009 when Omri Casspi became the country's first NBA player, and again when Gal Mekel made fleeting appearances for the Dallas Mavericks and New Orleans Pelicans. But those reactions paled in comparison to the hoopla surrounding Blatt's sudden ascension to become the first coach to jump from the European leagues to the NBA. Learning that he would coach the planet's greatest player has only added to the excitement.
Barak said the channel has experienced a spike in ratings this season, and that he is often stopped on the streets by strangers who want to pick his brain about Blatt.
"From our provincial perspective, it is a huge deal and we want to see one of our own succeed," he said.
Blatt played his college ball at Princeton under coach Pete Carril. He has called Israel home since 1981, when he first arrived to play for the U.S. at the Maccabiah Games. A solid playing career in the Israeli league followed before an even more successful coaching career began in 1993.
Over the next two decades he developed his reputation as a top international coach and offensive wizard whose stock surged dramatically after leading the Russian national team to a bronze medal in the 2012 Olympics. His signature moment in Israel came last year when he led Maccabi Tel Aviv to a series of upset wins en route to a dramatic Euroleague championship title.
As rumors floated that Blatt would soon head to the NBA, Israeli Prime Minister Benjamin Netanyahu even pleaded with him to stay.
His roots in Israel remain deep. He's married to an Israeli woman, Kinneret, and raised his four children here, with the oldest two having completed their military service. He speaks fluent, albeit American-accented, Hebrew and is a popular pitchman for TV ads who has professed a desire to one day serve as an ambassador for the country. An economic newspaper recently reported Blatt just purchased a pair of high-rise Tel Aviv apartments.
Overnight, the Cavs became "Israel's team" in the NBA, replacing traditional favorites like the Celtics, Knicks, Bulls and Lakers. Even those who rooted against him have become his backers, with the loyal following taking up a prominent presence online to defend him against critics.
Dotan Ben-Yosef, a 25-year-old university student, is among many who can't wait for the morning highlights and gets up at 3 a.m. to watch the games live.
"He's living out the dream of every Israeli who wants to make it big in the world," he said. "I think everyone here wants him to win."
So far, it hasn't worked out that way. With a slew of injuries, questionable team chemistry and a seemingly awkward relationship with James, the Cavs are in the middle of the pack after being favored to win the Eastern Conference.
Blatt's every move in America is scrutinized in the local media with commentators saying the pressure is taking its toll. Known for a demanding, vocal style in Israel, Blatt often appears muted on the NBA sidelines and monotone in postgame press conferences.
Devin Smith, his former player on Maccabi, said he's confident once Blatt gets through the growing pains he will thrive.
"You've got a group of guys who have never played together," said Smith, who played his college ball at the University of Virginia. "It's a growing process. People expected because LeBron is there for him to go back and win every game, but that is not the case."
Guy Goodes, Blatt's former assistant and successor as Maccabi Tel Aviv coach, said if anyone could withstand the enormous expectations it was Blatt.
"David is going through a tough stretch, but he will adjust," he said. "We are all happy for him and proud of him and feel a part of helping him get there."